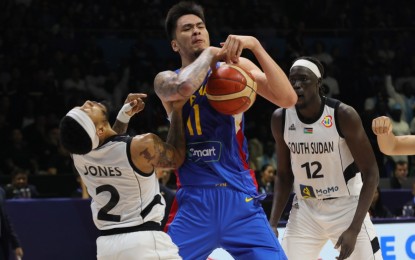 MANILA – South Sudan put the Philippines in serious danger of missing the Olympics men's 5x5 basketball tournament for the 13th straight time by beating Gilas Pilipinas, 87-68, in their FIBA World Cup classification game in front of 9,250 fans at the Smart Araneta Coliseum in Quezon City on Thursday night.
South Sudan waxed hot early on but needed to repulse Gilas' second-half rally to secure the win.
Despite Rhenz Abando's perimeter defense prowess, South Sudan caught fire early on and opened a 34-17 lead against Gilas at the end of the first quarter.
Gilas eventually slowed down South Sudan offensively in the next two quarters, and through a 6-0 run to start the fourth quarter, they cut South Sudan's lead down to four, 60-56, with 7:28 left.
However, South Sudan managed to finish the fourth strong and finally secure the win.
Carlik Jones led South Sudan, whose own bid to make it to the Paris Olympics also got a major boost, with 17 points, 9 rebounds, 14 assists and 2 steals.
Majok Deng added 13 points, 6 rebounds and 1 steal, while Wenyen Gabriel put up 11 points, 11 rebounds, 1 assist and 2 blocks.
Jordan Clarkson put up 24 points, 4 rebounds, 3 assists and 3 steals.
Dwight Ramos added 20 points, 12 rebounds, 2 assists and 1 steal, while AJ Edu had 12 points, 14 rebounds, 2 assists, 1 block and 1 steal.
With Japan's win against Venezuela at the Okinawa Arena, Gilas will miss outright the Paris Olympics qualification and can now only hope to make it to the Olympic Qualifying Tournament to get another shot.
Japan's own bid to make it to the Paris Olympics got a major boost after beating Venezuela, 86-77.
Down for most of the game, Japan broke loose in the fourth quarter, outscoring Venezuela, 33-15, to steal the victory.
Makoto Hiejima led Japan, now with two wins in the FIBA World Cup, with 23 points on 6-of-7 shooting from beyond the arc, 2 rebounds and 2 steals.
Yuta Watanabe added 21 points, 8 rebounds, 1 assist, 2 blocks, and 1 steal, while Yuki Kawamura put up 19 points, 4 rebounds and 11 assists.
Garly Sojo put up 20 points, 6 rebounds, 2 assists, and 1 steal, while Heissler Guillent put up 10 points, 10 assists and 3 rebounds for Venezuela.

Lebanon joins Olympic chase

Lebanon joined the fun after beating Ivory Coast, 94-84, at the Indonesia Arena in Jakarta.
It survived a late dash by the Ivory Coast as they eventually preserved a hot start.
Lebanon raced to a 32-20 lead at the end of the first quarter and preserved the huge lead until halftime, opening a 55-41 halftime cushion.
However, Ivory Coast crawled back in the third quarter and even tied the game at 60-all before Lebanon finished the quarter strong to restore order.
Ivory Coast mounted another comeback and cut the lead down to just two, 86-84, with 1:09 left in the fourth, but an Omari Spellman three sparked the game-ending 8-0 run to seal Lebanon's win.
Amir Saoud led Lebanon with 29 points, 5 rebounds and 8 assists, while Spellman added 25 points, 6 rebounds, 5 assists, 4 blocks and 1 steal.
Jean Dally led Ivory Coast with 21 points on 4-for-6 three-point shooting. (PNA)