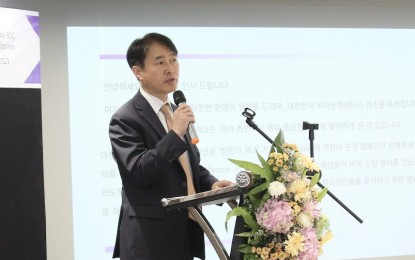 MANILA – The Korea Visa Application Center (KVAC) has formally opened in the Philippines to meet the growing demands of visa applicants amid a surge in the number of travelers between South Korea and the Philippines.
The KVAC, located at the Brittany Hotel in Taguig City, will receive the applications for all visa types and release the issued visas and passports that have been reviewed by the Korean Embassy in Manila.
Meanwhile, visa applications for holders of diplomatic and official passports and for those who require a visa urgently within one to two days due to clear humanitarian reasons will be exceptionally accepted at the embassy.
The embassy's window services shall be performed by the KVAC to allow the embassy to focus on screening and simplify the application process for Filipinos and the Korean community in Manila.
As the two states mark 75 years of diplomatic relations in 2024, Korean Ambassador to the Philippines Lee Sang-Hwa hoped that KVAC's opening would further increase people-to-people exchanges and further deepen the Philippine-Korea partnership.
"The Korean Embassy will continue to make efforts to promote people-to-people exchanges," he said during the opening on Aug. 29.
"We will make efforts to allow more people may enjoy the beauty and culture of Korea, and to enhance the deep friendship and partnership between the Philippines and Korea," he added.
The envoy said the KVAC inauguration is also in line with the Korean government's tourism campaign designating 2023 and 2024 as "Visit Korea Year".
The Korean Cultural Center (KCC) in Manila said the number of Filipino and Korean nationals that traveled between Korea and the Philippines reached 2.54 million in 2019.
While this drastically went down during the pandemic, the KCC is seeing gradual recovery this year as the figure hit one million from January to July alone.
"This figure is a 4.7-fold increase from the first half of 2022, and it is expected that the level of people-to-people exchanges will recover to the level before Covid-19," the KCC said.
As of Aug. 29, the KVAC has received 3,879 visa applicants.
"We are expecting more applicants to visit our center and South Korea," the KCC said. (PNA)