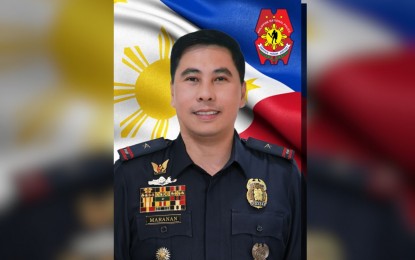 MANILA – Philippine National Police (PNP) Public Information Office chief Brig. Gen. Redrico Maranan has been designated as the acting director of the Quezon City Police District (QCPD).
Maranan replaced Brig. Gen. Nicolas Torre III, who resigned from the post amid the probe into the QCPD's handling of the road rage case involving dismissed police officer Wilfredo Gonzales and a cyclist that went viral on social media.
Torre resigned from his post on Wednesday after drawing flak when he presided over a press conference featuring Gonzales at the QCPD headquarters on Aug. 27.
Replacing Maranan as acting PNP PIO chief is Col. Jean Fajardo, who is currently serving as the police force's spokesperson.
The new designations were announced in an order dated Aug. 31 which was released to the media on Friday by the PNP's Directorate for Personnel and Records Management (DPRM)
Maranan is a member of the Philippine National Police Academy (PNPA) "Patnubay" Class of 1995.
Since his appointment to the PNP in 1995, he has held various command, staff and training assignments in different levels of the organization, mostly in operating and line units.
He was named the PNP-PIO chief in October 2022.
Before this, he became the deputy district director for operations of the QCPD.
He also served in various capacities as a field grade officer in the Aviation Security Group, Police Regional Office Calabarzon, Southern Police District, Cebu City Police Office and Police Regional Office 5 in the Bicol Region.
Maranan also received formal training on various police specializations in intelligence, drug law enforcement, incident management, aircraft operations, bomb investigation, human rights, hostage negotiation, and police tactical skills.
Meanwhile, Fajardo was designated as the PNP spokesperson in January 2022.
She also held numerous key positions in the police organization including as deputy director for operations of the PNP's Drug Enforcement Group, provincial director of Pampanga Provincial Police Office, chief of the Central Luzon Police Regional Office Intelligence Division; and chief of police in Lubao and San Fernando, Pampanga.
Fajardo is a product of the Philippine National Police Academy Class of 1996.
She also graduated from Jose Rizal University College of Law and passed the Bar examinations in 2009. (PNA)