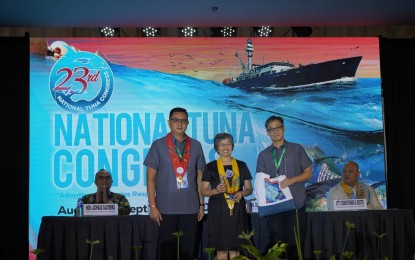 MANILA – The Department of Agriculture-Bureau of Fisheries and Aquatic Resources (DA-BFAR) on Friday said the Philippines is now among the world's leading producers of tuna.
"With unwavering determination, we have elevated the Philippines to the ranks of the world's leading tuna producers. Last year's impressive production of over 475,000 metric tons speaks to our diligence and the richness of our marine biodiversity — a remarkable achievement for a country of our size," DA Undersecretary for Fisheries Drusila Esther Bayate said in her message at the closing of the 23nd National Tuna Congress and Trade Exhibit at the SM City General Santos Trade Halls in General Santos City.
"At sa kabila ng liit natin, nakakapag-export pa tayo (We are able to export despite our size). More than 107,000 metric tons of tuna were exported last year. Nakaka-proud talagang maging Pilipino (Being a Filipino is something to be proud of)," she added, noting that the country's tuna industry has a rich potential.
BFAR data showed that in 2022, tuna accounted for 10.25 percent of the country's fisheries production.
Bayate underscored that the country's tuna industry continuously adapts to various challenges.
She also shared the current initiatives of the Department of Agriculture through the Bureau of Fisheries and Aquatic Resources in further strengthening the tuna industry, such as the establishment of the 12 Fisheries Management Areas (FMA), the approval of three new Fisheries Administrative Orders related to tuna fisheries management, the Philippine Fisheries and Coastal Resiliency (FishCoRe) Project, and the National MLambaklad and Payao Program, among others.
DA-BFAR director Demosthenes Escoto highlighted the importance of the country's tuna fisheries amid challenges and changes in nature such as rising sea temperatures exacerbated by climate change.
In his message, he said among the various new initiatives of the DA for the tuna industry include continuous implementation of the National Tuna Management Plan and the reconstitution of the BFAR Technical Working Group on Tuna Fisheries.
The event which ran from Thursday to Friday was led by the Soccsksargen Federation of Fishing and Allied IndustriesInc. (SFFAII) with the theme, "Adapting Strategies Responsive to Global Challenges."
The congress' plenary covered topics on cooperation and partnerships on tuna fisheries, tuna catch estimation initiatives, and adaptive strategies by the tuna industry. (PNA)