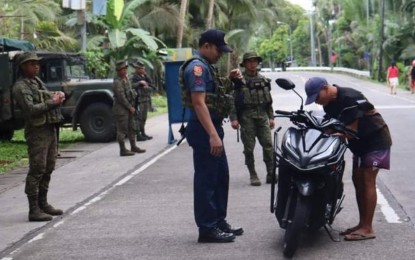 CEBU CITY – Over 1,000 personnel of the Armed Forces of the Philippines (AFP) have been deployed to checkpoints in 16 provinces of the Visayas to tighten security in 11,443 villages in time for next month's Barangay and Sangguniang Kabataan Elections (BSKE).
Visayas Command (Viscom) chief, Lt. Gen. Benedict Arevalo, said Friday the AFP has already established 239 Comelec checkpoints since the start of the election period for the BSKE on Oct. 30 to ensure peace and security until the filing of the certificate of candidacy that ends Saturday.
Arevalo said 1,297 AFP personnel comprising four officers, 630 enlisted soldiers and 663 active members of the Civilian Auxiliary Force Geographical Unit (CAFGU) will support the Philippine National Police in enforcing the election gun ban.
These troopers are apart from the 110 officers designated as liaison officers to the Joint Security Control Center (JSCC) and tasked to coordinate with the Comelec, PNP and the Philippine Coast Guard (PCG) in ensuring synchronized security and response efforts throughout the election period.
"This deployment is a testament to our strong commitment to ensure the safety and security of both the candidates and the voters throughout the election period. This is also to encourage our people to exercise their right and cast their votes freely, without intimidation and fear from those who are planning to cause terror, especially the CPP-NPA (Communist Party of the Philippines-New People's Army)," Arevalo said in a statement.
Meanwhile, Viscom reported a total of 10 government-initiated armed encounters in the Visayas last month.
Lt. Col. Israel Galorio, Viscom spokesperson, said these encounters led to the neutralization of 30 NPA terrorists, three of whom died during encounters, while 27 surrendered.
These international security operations have also led to the seizure of 28 firearms and nine anti-personnel mines.
Galorio said the intensified campaign against the CPP-NPA is in response to Arevalo's marching order to prevent them from sowing terror to the people, stop their extortion activity and bar them from influencing the outcome of the election. (PNA)