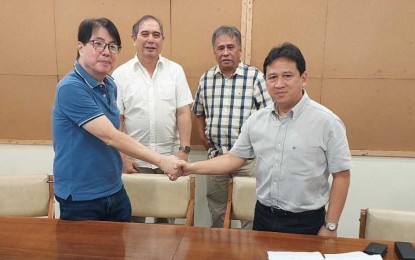 BACOLOD CITY – A 100-megawatt (MW) floating solar power farm, the first in Visayas and Mindanao, will soon rise in Cadiz City in northern Negros Occidental.
Project proponent Zonal Renewables Corp. (ZRC) and property owner A.M. Hijos Inc. (AMHI) of the prominent Montelibano family here entered into an agreement to develop the facility on a 90-hectare fishpond in Barangay Tinampaan.
"We are demonstrating a capacity to provide an ease-in-doing business across all sectors. It boosts our city's newest investment-slash-tourism campaign tagline Cadiz City: Land of Splendid Opportunities," Mayor Salvador Escalante Jr. said in a statement on Sunday.
The agreement was recently signed by ZRC president Jabez Alvarez and AMHI president Ramon Montelibano, in the presence of Escalante and Leandro Montelibano.
The project cost and target dates of construction and commissioning have not been disclosed yet.
The Montelibanos said the project is their family's contribution to the government campaign for decarbonization, adding that a floating solar power project has an ability to sequester 1,250 tonnes of carbon dioxide per year or an equivalent of 357,500 trees planted every year.
"Hence, this will be our legacy project and noteworthy contribution to the national government's push towards a carbon neutral Philippines," they added.
Alvarez said the signing of the agreement "comes at a perfect time," considering that "the outlook for new renewable energy (RE) generation projects in Negros Occidental is quite encouraging."
"That's because of the soon-to-be completed additional transmission capabilities by the National Grid Corporation of the Philippines, and one of them is the Cebu-Negros-Panay Grid Interconnection project," he noted.
Escalante said the latest power project will further establish Cadiz City as the province's RE capital.
The northern Negros city already hosts the 132-MW Home Vena Energy's Helios Solar Power Plant (HSPP) in Barangay Tinampaan since 2015.
Occupying a land area of 176 hectares, the HSPP is considered the biggest in Southeast Asia and the seventh largest in the world. (PNA)