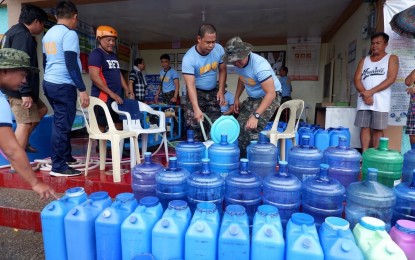 LAOAG CITY – Over a thousand residents living in Barangay Nalasin and Sitio Lipay in the mountainous town of Solsona in Ilocos Norte have been isolated for almost a week now as rains brought by the southwest monsoon that is intensified by Typhoon Hanna continued to affect many parts of the province.
Solsona Mayor Joseph de Lara confirmed this Sunday as he reported that the access road leading to Nalasin and some embankments were earlier damaged by the previous Typhoon Goring, making it hard for residents to cross raging floodwaters that have not receded up to this time.
To assist the affected residents, the local government, with the aid of different units of the Philippine National Police, 4th Marine Brigade, and the Bureau of Fire Protection mobilized teams to deliver food packs, potable water equipment and other essentials to isolated villages and sub-communities.
"We will continue to extend all forms of assistance to our affected constituents to help them cope with the adverse effects of these catastrophic disasters," said de Lara as he thanked the provincial government and other support units for assisting the municipality.
Nalasin village chief Noriel Pascual said once the rains stop, they would build a temporary bridge that would connect them to the town proper and allow them to access their needs.
For now, Nalasin residents depend on relief aid from the local government.
"We don't know when our supply last. I just hope it won't be too long for this heavy rain to stop," he said.
Hanna is moving toward Taiwan and is expected to exit the Philippine Area of Responsibility Sunday night or Monday morning, according to state weather bureau PAGASA. (PNA)