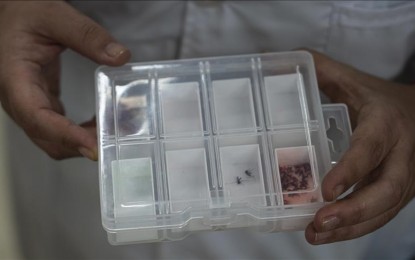 DHAKA, Bangladesh – At least 21 people died of dengue in Bangladesh on Saturday, a single-day high since the health authorities started record-keeping in 2000, taking the total death toll to 618.
According to the Directorate General of Health Services, of the new deaths, 17 people died due to the mosquito-borne dengue fever in Dhaka, keeping the capital city as the epicenter of the endemic-turn dengue fever.
Dhaka also reported 456 deaths out of total.
The total cases of hospitalizations rose to almost 127,700, including nearly 59,600 cases from Dhaka, the health authority said in its daily dengue update.
The Directorate General of Health Services on Friday said it found Aedes mosquito larvae, responsible for dengue fever, in 40-50 percent houses in Dhaka city, a worrying sign of worsening dengue situation.
Urging people to rush to hospitals when infected with the virus, Md. Nazmul Islam, additional director of the health agency, told reporters that on average, 75 people have died of dengue since January.
Furthermore, 90 percent of patients who were admitted to hospitals died within 72 hours of hospitalization, he said, emphasizing need for hospitalization on time.
Last year, 281 people died due to dengue in the South Asian country.
Dengue, first recorded in the 1960s in Bangladesh as Dacca fever, has already started putting pressure on the health systems in the country, the World Health Organization warned.
Dengue is a viral infection transmitted to humans through the bite of infected mosquitoes but there is no specific treatment for the infection. (Anadolu)