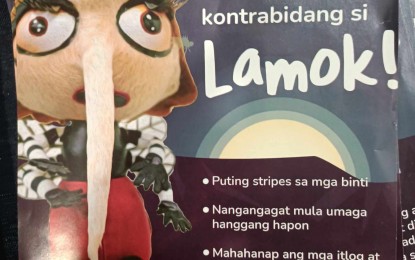 ILOILO CITY – The Department of Health Western Visayas Center for Health Development (DOH WV CHD) said the risk of dengue remains even if the 3,959 cases with 21 deaths from Jan. 1 to Aug. 19 were lower compared with the 11,157 cases with 68 deaths during the same period last year.
"This year was not predicted as an outbreak year, and we can see that our cases are decreasing, but still, the risk is there, especially since we are experiencing rains," said Dr. Bea Camille Natalaray, chief of the DOH WV CHD infectious, environmental, and occupational health section, in an interview on Monday.
Iloilo province recorded 981 cases, followed by Negros Occidental with 719.
Aklan has 540 cases; Antique, 258; Capiz, 463; Guimaras, 119; Iloilo City, 549; and Bacolod City 330.
Negros Occidental, on the other hand, has the highest number of fatalities with six, followed by Aklan with four; Capiz, Iloilo City and Bacolod City with three each; and one each from Guimaras and Iloilo province.
She added that the most affected age group, which is 48 percent of the cases, is one to 10 years old, followed by 11 to 20 years old at 23 percent.
"Mosquito carriers can spread fast since they are in school, especially when they are out during the biting period," Natalaray said.
Natalaray attributed the declining cases, aside from 2023 as a non-outbreak year, to the continuous provision of support to local government units (LGUs), including larvicides, indoor residual spray, and insecticide for vector control activities, while schools received mosquito nets.
Whether or not the cases will continue to decline is dependent on the compliance of the public to the 4S strategy, which stands for: search and destroy breeding areas, self-protection, say yes to fogging and indoor residual spraying in areas where cases are increasing, and seek early medical consultation if the fever persists for two days.
The medical officer added that they will conduct a dengue death review next week to determine the gaps to prevent fatalities.
"Our recorded 21 deaths are lower this year when compared with last year's 68. However, 21 are still 21 lives; 21 children whose deaths could have been prevented if they consulted earlier. Looking into the data, most likely the reason is late consultation. Sometimes patients are already in the critical period before they can be given medical management," she added.
With the opening of classes, Natalaray urged parents to apply insect repellents on their children when they go to school.
It is also important for LGUs to have standby supplies of the dengue NS-1 Kit or the dengue duo kit to be used for probable cases. (PNA)