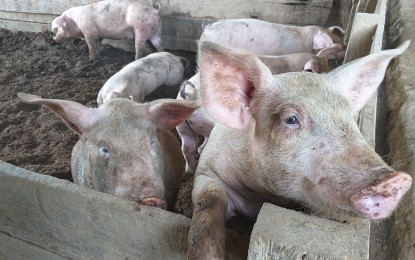 LIPA CITY, Batangas – The Department of Agriculture (DA) on Monday called on hog raisers in Calabarzon to continue raising pigs despite the lingering threat of African swine fever (ASF) to meet the anticipated surge in demand during the Philippines' protracted Christmas season.
In an interview, Dr. Jerome Cuasay, livestock program focal person, said to encourage hog raisers to persevere despite the presence of ASF, the DA is offering various kinds of assistance to their sector through the Integrated National Swine Production Initiatives for Recovery and Expansion (INSPIRE) of the Livestock Program.
He said the assistance includes the establishment of facilities and provision of feeds, piglets and disinfectant.
Cuasay underscored the urgent need to increase pork production in the five-province region.
"This project is very important because when the 'ber' months come, we expect higher demand for meat. Through this, we can have (a) steady and available supply of pork in the local market during the holiday season," he said.
Pork supply has steadily decreased since ASF started infecting piggeries in the country in 2019, he added.
Both commercial piggeries and backyard hog raisers have been affected, and some were forced to shut down operations altogether, lamented Cuasay.
He said the DA tried to provide alternative sources of income to displaced hog farmers like raising cows, carabaos and goats.
However, in view of the looming shortage of pork, the DA is again pivoting to the promotion of pig-rearing activities through the INSPIRE program.
Cuasay revealed that the DA has built facilities for fattening hogs last year, including those in five sites in Cavite, five in Laguna, 13 in Batangas, six sites in Rizal and 18 sites in Quezon.
This year, he said 30 additional sites will be constructed, consisting of two sites in Cavite, two in Laguna, 18 in Batangas and eight in Quezon.
It was explained that these fattening facilities will accommodate swine owned by backyard farmers and cooperatives.
The common facility has tighter biosecurity protocols to ensure that the ASF virus is kept out, Cuasay said.
"The INSPIRE program beneficiaries of those sites are the farmer cooperative associations (FCAs)," he added.
Cuasay shared that the Gulayamanan Agriculture Cooperative in the town of Bauan in Batangas was recently granted PHP10 million worth of facilities and other support.
Such support includes the biosecured and climate-controlled finisher operation facility, 300 bags of starter feeds, 371 bags of grower feeds, 300 heads of piglets and 53 gallons of disinfectant.
Cuasay reminded hog raisers to closely monitor the possibility of ASF cases in their areas that must be reported immediately to his office or to their respective local government units. (PNA)