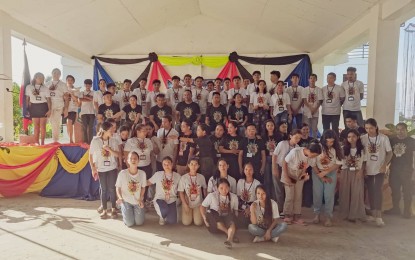 DUMAGUETE CITY – A former rebel has called on pregnant members of the underground movement to give up their cause and surrender to authorities so they could give their children a good future.
Clarice (not her real name), a 21-year-old mother of a four-month-old, gave her testimony as a speaker/participant in the three-day 1st Youth Leadership Summit (YLS) in Tanjay City, Negros Oriental which concluded on Sunday.
In an interview with the Philippine News Agency, she called on at least four other young pregnant New People's Army (NPA) members to rejoin mainstream society.
She said these young women, if they still remain with the NPA, are bound to leave their newborn babies with families unknown to them, with the risk of not ever seeing their children again.
She also urged youth leaders in Tanjay City to be wary of the deceptions and lies of the NPA that she had personally experienced.
"I am a victim of the lies and deceptions of the NPA. I was exploited and I fell prey to their false promises of better living conditions. Do not be fooled by what they tell you," Clarice said in the local dialect.
Recounting her experience in the underground movement, she said that she became a vulnerable target of the NPA because of her lack of education as well as her family background.
Separated from her seven siblings at two years old after their mother died, Clarice said her father brought her to Silay, Negros Occidental where she lived until she was 19.
She returned home to Tamlang Valley, Sta. Catalina.
She said she had to fend for herself in Silay, working as a house help because her father already had a second family.
Her siblings in Sta. Catalina came across her on social media and convinced her to come home so she decided to go back to her roots.
Once there, she enrolled as a "visitor" in third grade at an elementary school but never completed the school year because of fear of being rejected.
She suffered the stigma and around this time, two women recruited her to join the NPA, telling her that life would be easier if she were to join the insurgency movement.
But things were far different from what she had expected. There were plenty of restrictions and she said she carried a firearm even when she was not running errands for the higher-ups.
Clarice met her husband, Jose (not her real name), last year and they were "married" by the NPA, although she knew the ceremony was not legally binding.
It was only when she conceived that they realized the dangers of having a baby while in the underground movement.
Clarice and Jose finally made arrangements for their surrender to the Army's 11th Infantry Battalion (IB) based in Siaton, Negros Oriental last May.
They are now happily settled in a safe place.
During the Youth Leadership Summit, Clarice said she learned a lot of new things which opened her eyes to the real world of peace and freedom.
The YLS is funded by the Tanjay City government and facilitated by the 11th IB headed by commanding officer, Lt. Col. Michael Aquino, with the help of the provincial Youth for Peace. It graduated 47 aged 15 to 25, including Clarice.
The activity prepares the young participants as future leaders with lectures on the environment, illegal drugs, terrorism and the role of youth in nation-building.
Jestoni Cuadra, president of the Negros Oriental Youth for Peace, said he is honored and privileged for being chosen to lead the group.
"It is a responsibility to be able to serve the youth and the biggest challenge is to get their attention because the reality is in this current generation, they have little memory retention," he pointed out.
Earl John Tocao, chairman of the Tanjay YLS chapter, said "it is very transformational and I am now more empowered to lead the group, especially as I am a member of the LGBTQ (lesbian, gay, bisexual, transgende and queer) and I hope to see equal treatment among all".
Tocao said he will be working closely with the LGU and other sectors to promote the welfare and future of the youth in Tanjay.
Jeannette Quila, chairperson of the Youth Development Program of Tanjay City, said the event "molded the character of the participants and inspires us to do what we thought we were not capable of doing in terms of leadership."
Quila admits a "change of personality" after the training, saying she used to have little self-confidence. (PNA)