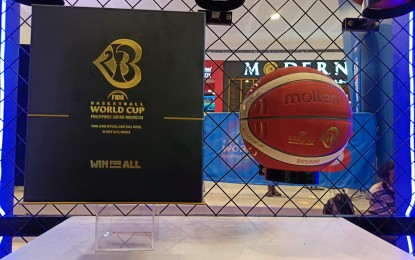 MANILA – Molten has officially unveiled the ball that will be used in the championship game of the FIBA Basketball World Cup on Sunday.
The ball is similar in design to the one currently used during the World Cup, but the difference is that the FIBA World Cup Final ball is specifically designed for the occasion.
Unlike the regular ball, the Naismith Trophy has been embedded in the ball as well as the date of the final, which is Sept. 10, and even the serial number.
The championship ball is also purely gold-plated.
"The BG5000 FIBA World Cup 2023 official game ball represents a perfect synergy of cutting-edge technology and the timeless essence of basketball. We made sure that the design and performance pay homage to the sport's rich history which pushes the boundaries of what a game ball can achieve," Noa Hasegawa, Molten's head of marketing, said during the ball's official launch on Monday night at the SM Mall of Asia Music Hall in Pasay City.
FIBA Secretary General Andreas Zagklis, Sonak Chief Executive Officer Anil Buxani and Philippine Basketball Association Commissioner Willie Marcial joined Hasegawa in revealing the World Cup Final ball.
Sonak exclusively distributes Molten products in the Philippines.
Unlike the non-final ball, the special edition ball has been made available publicly, but only 1,200 pieces are up for grabs.
Filipino fans can avail of the ball only through Molten Philippines' website at www.molten.com.ph. (PNA)