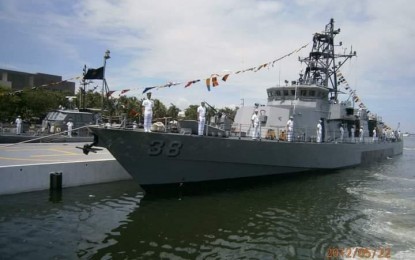 MANILA – The Philippine Navy (PN) on Tuesday said it would christen and commission into service two US-donated Cyclone-class patrol vessels on Sept. 11.
In a statement, Navy spokesperson Captain Benjo Negranza said these ships will be known as the Alvarez-class patrol vessels once commissioned in service.
The christening and commissioning rites would be held at PN headquarters at Naval Station Jose Andrada, Roxas Boulevard, Manila.
"The PN will be conducting the christening and commissioning ceremony of the two newly-acquired Alvarez-class patrol vessels, namely BRP Valentin Diaz (PS-177) and BRP Ladislao Diwa (PS-178) with Honorable Gilberto C. Teodoro Jr., Secretary of National Defense as Guest of Honor and Speaker," Negranza added.
The US Navy transferred these two Cyclone-class patrol vessels upon decommissioning in Bahrain on March 28 and were delivered to the country last May.
The ships, the former USS Monsoon (PC-4) and USS Chinook (PC-9), were transferred to the PN through the Excess Defense Article (EDA) program.
These vessels are the sister ships of the BRP General Mariano Alvarez (PS-38), the ex-USS Cyclone (PC-1), which was turned over to the PN in 2004.
The 55-meter vessels will be able to complement the PN's patrol gunboats in ensuring safety and security within the "littoral waters of the porous borders and vast maritime environment of the Philippines, being equipped with the firepower and lethality for littoral operations." (PNA)