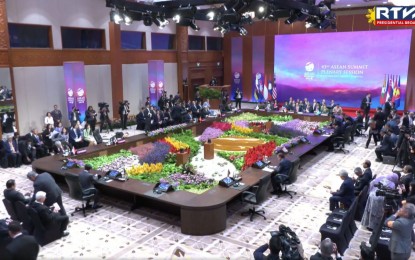 MANILA – President Ferdinand R. Marcos Jr. urged member states of the Association of Southeast Asian Nations (ASEAN) to call on developing countries to strengthen their commitment to climate action.
In his intervention Tuesday during the plenary of the 43rd ASEAN Summit in Jakarta, Indonesia, the President said climate change is the most urgent threat to a country's progress.
"It is a looming reminder of the injustice of disproportionate impact on our people," President Marcos told ASEAN country members.
"At the upcoming COP28, ASEAN must call on developed countries to heighten the implementation of their commitments. Their commitments include climate finance, technology development and transfer, and capacity building in order to drive ASEAN's capabilities to prevent, mitigate, manage and adapt to the impacts of climate change," he added.
The 2023 United Nations Climate Change Conference (COP28) will be held at the Expo City of Dubai, United Arab Emirates on Nov. 30 to Dec. 12.
With the Philippines among the most disaster-prone countries in the world, President Marcos said the government will continue prioritizing international cooperation that will make ASEAN climate-smart and disaster-ready, including through the ASEAN Centre for Biodiversity, which is located at the University of the Philippines Los Baños in Laguna province.
"In achieving food security, we must build on cooperation that will harness the transformative potential of our agricultural sector to ensure that food production is responsible and will be of benefit for future generations," President Marcos said.
"The continued effectiveness of our community-building efforts rests on a clear assessment of our strengths. The Philippines will continue to champion for change that will strengthen our institutions, improve our decision-making, and uphold ASEAN Centrality," he added.
Marcos is in Jakarta on the invitation of Indonesian President Joko Widodo, this year's ASEAN chair. (PND/PNA)