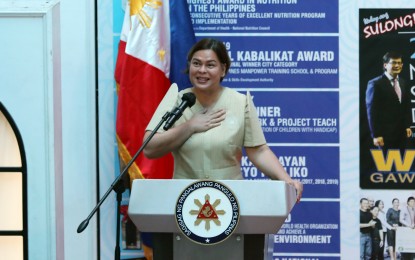 MANILA – The release of confidential funds worth PHP221.424 million to the Office of the Vice President (OVP) in 2022 was based on Special Provision No. 1 of last year's Contingent Fund, the Office of the Executive Secretary said Tuesday night.
The OES, in a statement, said disbursement of the said fund "was done pursuant to Special Provision No. 1 under FY 2022 Contingent Fund."
"Under Special Provision No. 1, the President is authorized to approve releases to cover funding requirements of new or urgent activities of NGA (national government agencies), among others, that need to be implemented during the year," it said.
The statement explained that President Ferdinand R. Marcos Jr. recognized the need to release the said budget to help in the OVP's initiative and after the recommendation of the Department of Budget and Management (DBM).
"Vice President Sara, who was newly elected then, needed funds for her new programs for the remaining period of 2022. The President supported this initiative and released the funds, with the favorable recommendation of DBM," it said.
The OVP requested the said amount to finance maintenance and other operating expenses (MOOE) items such as the financial assistance/subsidy (PHP96.424 million) and confidential funds for the newly-created satellite offices (PHP125 million), a news release from the Presidential News Desk said.
On Aug. 28, House Deputy Minority leader and ACT Teachers party-list Rep. France Castro said the OVP spent around PHP125 million in confidential funds in the last month of 2022, even though the said fund was released only on Dec. 13, 2022. (PNA)