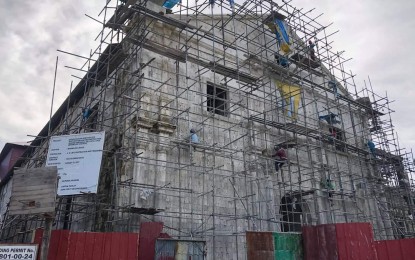 MANILA – The Office of Civil Defense (OCD) on Wednesday said it would commemorate the 2013 Bohol earthquake in line with the conduct of the third quarter Nationwide Simultaneous Earthquake Drill (NSED) on Thursday.
In a statement, OCD administrator Undersecretary Ariel Nepomuceno said the ceremonial pressing of the button of the third quarter NSED will be held in Tagbilaran, Bohol at 2 p.m.
Bohol was selected as the ceremonial site for this quarter's NSED to mark the 10th anniversary of the magnitude 7.2 earthquake that struck the province on Oct. 15, 2013.
A full-scale exercise focusing on a magnitude 7.2 earthquake scenario due to the movement of the East Bohol Fault would be conducted.
Nepomuceno, meanwhile, stressed the need to enhance the response capabilities of local government units and communities against massive earthquakes.
"Similar to what we have emphasized during the second quarter NSED, the capabilities of the LGUs and communities must be strengthened continuously. We need to empower them because immediate action takes place on the ground level. The first few hours are important during emergencies," OCD administrator Undersecretary Ariel Nepomuceno said in a statement.
As earthquakes remain unpredictable, Nepomuceno said capacity building for this type of disaster should always be ongoing.
"With that, the LGUs and communities should always know what to do and that is what we are doing, building their capacities," the OCD chief stressed.
The exercise will test earthquake emergency plans through a demonstration of response capabilities; command and control systems and processes; and interoperability of rescue teams. (PNA)