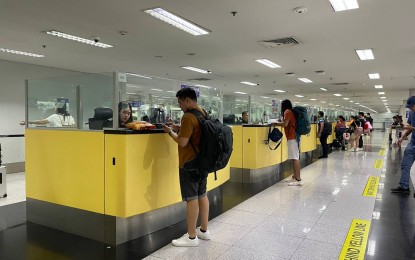 MANILA – Providing swift and safe travel experience for travelers remains one of the main thrusts of the Bureau of Immigration (BI).
But with the rising complexity of human trafficking schemes, the BI needs to fortify its measures to ensure border safety.

A female immigration officer attested to such approach at the Ninoy Aquino International Airport (NAIA).

Immigration officer (IO) "Anna", whose real identity is withheld upon her request, said the bureau is beefing up modernization efforts to sustain efficient and secured systems.

"The entirety of BI works consistently and tirelessly to guarantee the protection of our borders," she told the Philippine News Agency.

"As a matter of fact, the new proposed immigration bill to supersede the outdated Philippine Immigration Act of 1940 is currently in the works for apt modernization of the immigration law in the country," she added.

With these efforts, the BI once again garnered a Tier 1 Status for the 8th consecutive year according to the United States' Trafficking-in-Persons Report.

A Tier 1 Status shows the Philippines' full compliance with the minimum standards of eliminating severe forms of human trafficking.

According to the BI, 52,549 out of 3,515,287 Filipino passengers were deferred from January to June 2023.

BI Spokesperson Dana Sandoval said this figure is equivalent to 0.51 percent of all departing Filipinos being deferred due to improper documentation and misrepresentation, among others.

"Of those deferred, 287 were turned over to the IACAT (Inter-Agency Council Against Trafficking) or DMW (Department of Migrant Workers) after elements of human trafficking or illegal recruitment have been detected by immigration officers," she told the PNA.
Complaints, threats
Stringent border control measures, however, are not spared from the public complaints and aversion.

"As law enforcers, IOs are always stuck between the relentless clashing of the public and the rules set by our authorities," Anna said.

"Frankly, being an IO can be a thankless job, as we see the social media inundated with intense hatred for IOs for merely exercising the bureau's mandate and mission," she added.

Anna admitted being "demoralized" by false claims trending online just for the sake of "views."

"It is incredibly disheartening to be on the receiving end of such animosity but if we cannot be called on to protect our international borders, who is going to do it for us?" she said.

These criticisms even go beyond words as some IOs face formal complaints.

"One of the challenges of being an IO at international ports is the high chances of having administrative cases and even criminal cases filed against them while in the performance of their duty of protecting our borders and deterring trafficking-in-persons," Anna added.

She said immigration officers tend to use their money for legal defense counsel and worse, are to receive threats in the performance of duty.

"There are even officers who receive death threats from passengers and their relatives, as well as other disgruntled netizens who believe that the protocols implemented by BI are harsh, unfair, and unconstitutional," Anna said.

Despite these, not all departing Filipinos share the same sentiment as individuals vent online.

Efren Reyes, 33, an overseas Filipino worker (OFW) in the Kingdom of Saudi Arabia (KSA), disclosed going through a series of interviews with IOs before his departure.
"Hindi naman kami na-hassle, maayos naman ang proseso bago kami makalipad. Ilang interview 'yung ginawa sa amin at nasagot naman namin nang maayos (We did not encounter hassle and the procedure was orderly before we departed. We went on several interviews, but we answered it well)," he told the PNA.

Reyes insisted that an aspiring OFW has to verify the recruitment process and the legitimacy of his/her employer to avoid scams.

"(Minsan) tayo rin ang may kasalanan kung bakit tayo nai-scam, dahil masyado tayong nagtitiwala at hindi sinasaliksik ang mga agency na ina-applyan (Sometimes, we are at fault why we are getting scammed, we easily trust and do not bother to scrutinize the agency we applied for)," he said.

Reyes urged the BI to continue implementing stringent measures despite public opinion to ensure the safety of all aspiring OFWs like him.

Karmelita Gonzales, 27, a technical consultant, attested to her fair share of nervousness as a Filipino tourist upon hearing offloading stories online.

"Nakakaba lang (It's just bothering) due to online testimonies na na-o-offload. (But) I'd still try to keep an open mind for the precautions that are being set by the Bureau of Immigration as long as the tourists are fairly judged, and the safety of citizens is the main concern," she told the PNA.

Gonzales disclosed multiple encounters with IOs before her travel to Singapore, Thailand, Taiwan and South Korea.

"They would still give you a very formal treatment that can be a bit intimidating. (They) randomly ask how much you know about your itinerary, your group, which I think seems fair, especially if we are facing an increase in human trafficking cases," she added.

For its part, the BI said it is never its intention to cause "senseless harassment or stress" to departing Filipinos.

"One's exclusion or deferral of departure may seem purposeless or heartless for some, but in the grand scheme of things, the existing immigration guidelines are in effect to safeguard the welfare of our nation as a whole," Anna said.

The Philippines has been cited among the many countries with job seekers susceptible to forced labor abroad via online illegal recruitment based on the US Department of State's Trafficking in Persons Report on June 2023.
"Rather than fulfilling their advertised employment promises, many of these companies began forcing the recruits to run internet scams directed at international targets and subjecting them to a wide range of abuses and violations," the report reads.

Trafficked victims reportedly experience abuse including "withheld travel and identity documentation; imposition of arbitrary debt; restricted access to food, water, medicine, communication, and movement; and threats, beatings, and electric shocks."

Under the complex human trafficking schemes, Filipino victims may be obliged to perform "quota-based fraudulent sales; illegal online gambling and investment schemes; and romance scams."
Sacrifices despite seasons

Being in the immigration field, Anna also disclosed one of her remarkable experiences at the NAIA Terminal II during the onslaught of Typhoon Yolanda last 2013.

"I distinctly remember having to walk at night on waist-deep flooded expressways just to go home and do the same walk, or swim, the next day to serve the traveling public," she said.

To ensure unhampered daily airport operations, Anna recalled staying at the NAIA Terminal 2 for days.

She added their function remains regardless of seasons and disaster hazards.

"When it's the holiday season, typical Filipino families spend their time off together; when there's a storm or other natural events that pose danger to the lives of the people, IOs are duty-bound to show up at international ports," she said.

Despite all these challenges, Anna expressed an even more vigorous will to safeguard the country's borders for the Filipino people.

"Our agency may not be perfect as we also have our share of shortcomings, but as long as we have honest and passionate IOs... (the) BI shall remain steadfast in performing its mandate with the highest degree of patriotism, integrity, and professionalism at all times," she said.

"Sa gitna ng ingay ng sari-saring kontrobersya na may kaakibat na panghuhusga, minsan nakakapagod na, pero sabi nga nila, pahinga lang, tapos laban ulit para sa bayan (Amid all the controversies alongside the judgments, tiring at times, but as they said, pause for a rest, then work again for the nation)," Anna added.

Anna has served as a technical staff at the Office of the Commissioner for almost 10 years after her initial function as one of the bureau's confidential agents. (PNA)