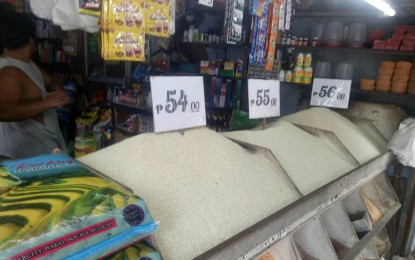 MANILA – The imposition of price ceilings on rice is gaining the support of economists and market analysts, specifically as a purely stopgap measure to address prevailing supply gaps that could be partially caused by hoarding.
In an interview Thursday, Carlos Manapat, chairperson of the University of Santo Tomas' (UST) economics department, said government intervention in the price of rice is well justified in view of the abnormal circumstances in the local retail market today.
"There must be a good reason for this (setting of price ceiling). Allowing the market to go unchecked will bring about bad effects. Interventions are necessary so all sectors can get their supply of rice," he emphasized.
He pointed out that there is no true "win-win" situation in sight given that the costs of farm inputs are up, and another El Niño dry spell is in the offing – making it more challenging for rice farmers to be productive.
Manapat said the government must make rice affordable to financially-struggling citizens even if there is resistance coming from the sellers, particularly, the middlemen.
"The (imposition of a) price ceiling is a message to hoarders to release their supply of rice. If they don't, and the next harvest season comes, they might end up stuck with their big rice stocks… they will be at the losing end," he said.
As a long-term solution to hoarding, Manapat urged the government to study the possibility of establishing large-capacity grain storage facilities in strategic areas around the country.
He explained that the government can then buy a certain portion of the "palay" output directly from farmers, thus, partially neutralizing the leverage of hoarders over rice supply.
Manapat also called on policy-makers to look into other options, such as reducing tariffs on imported rice and encouraging the importation of "low-cost rice varieties" to fill the temporary supply gap.
For his part, Astro Del Castillo, managing director of First Grade Finance, said putting a cap on the retail price of the Filipino staple serves to appease the public, giving the government time to address the supposedly artificial shortage.
"It's really a difficult balancing act for the President (Ferdinand R. Marcos Jr.). How do you reconcile the consumer and the economist's point of view? There is pressure from the public to bring down the price of rice immediately. But price control is an instrument of last resort… during abnormal situations," he noted.
Del Castillo, a veteran financial market analyst, pointed out that while retail prices of rice are being held steady by government-enforced price caps, policymakers should waste no time solving the long-term problem, which he said is subpar agricultural productivity.
"The government should support greater production, not just of rice, but also of other agricultural products. The agricultural value chain must be enhanced. The government should not be distracted from re-invigorating agro-industrial sector," he added.
Additionally, Del Castillo urged the government to consider cutting tariffs on imported rice to further reduce price pressures on the crucial commodity.
Meanwhile, Robert Galang, dean at Ateneo de Manila's John Gokongwei School of Management, in an interview with the Philippine News Agency, suggested that the government explore other means at its disposal to fill the rice supply gap.
"There are multiple ways to help improve food security at such a time, including via tariff reduction, giving food vouchers, subsidizing farmers among others," he said.
Executive Order 39 imposes price ceilings of PHP41 on regular milled rice, and PHP45 on well-milled rice. (PNA)