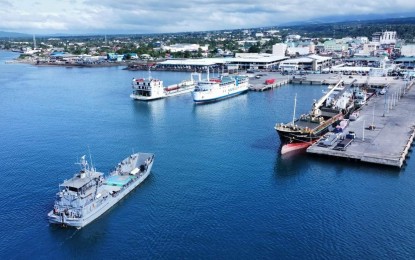 CEBU CITY – The coast off Cebu and Negros islands will be the venue for the weeklong bilateral maritime training exercises between the Philippine and Indonesian Navies.
Lt. Bernabe Jay Zambale Jr., public affairs officer of the Naval Forces Central (Navforcen), said Wednesday they will host the Maritime Training Activity (MTA) PhilIndo 2023 on Sept. 24 to 30 in the waters of this city up to the southwest of Negros Oriental province.
"MTA PhilIndo 2023 is a yearly Navy to Navy exercise between the Philippine Navy and the Indonesian Navy conducted in different naval operating forces in the Philippines, which will be reciprocated with the same event in Indonesia," Zambale said.
The activity is expected to enhance interoperability between the two navies and strengthen situational awareness and mutual cooperation as it will involve navigation and operations training and developing combined operational doctrines, practices, and naval tactics.
It will also highlight maritime security operations, surveillance, reconnaissance, maritime interdiction operations, gunnery exercises, and air operations training.
"It will be conducted in three phases – preparation, harbor, and sea phase. There will also be subject matter expert exchange participated by the personnel of two warships, a landing craft, and a patrol craft of the Philippine Navy and two warships from the Indonesian Navy," Zambale said, adding that they are also looking at the possibility of including the naval reservists in the familiarization boarding tour over any of the Indon naval vessels.
Zambale said the KRI Sampari and KRI Hiu will participate in the maritime drills for the Indonesian side while the BRP Gener Tinangag (PG-903), BRP Ramon Alcaraz (PS16), BRP Batak (LC299), and BRP Enrique Jurado (PC371) for the Philippine side.
The Philippine Navy Seals and Naval Air Wing will deploy a fighter plane and an AW-109 attack helicopter for the drills.
He said the participating sailors and their warships will converge at the Captain Veloso Pier along the Naval Base Rafael Ramos in Lapu-Lapu City on Sept. 24 and will commence the drills off the waters of Cebu and up to the southwestern tip of Negros Island on the following day.
The closing ceremony and the send off of the participating ships will be held on Sept. 29 and 30 at the Naval Base Rafael Ramos. (PNA)