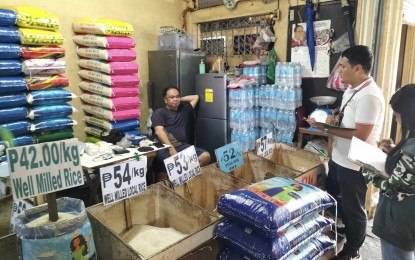 CITY OF SAN FERNANDO, Pampanga – Rice farmers in Central Luzon are in favor of the government's move mandating price ceilings on rice.
Jojo Paguinto, a farmer from Candaba town, this province, said the decision of President Ferdinand R. Marcos Jr. to enforce the rice price cap would benefit the farmers as well as the consumers.
Paguinto said the mandated price ceiling of PHP41 per kilo for regular-milled rice and PHP45 per kilo for well-milled rice could help ease the burden of the consumers amid the high prices of commodities.
At the same time, he said it is also acceptable to the farmers, noting that the farmgate price of palay is PHP20 per kilo.
Paguinto said at present, the National Food Authority is buying palay at PHP18 per kilo, and private traders at around PHP24 per kilo.
"Maganda na yun at kung titingnan mo, kikita pa rin ang magsasaka (It is good and if you look at it, the farmers can still earn), Paguinto said in a radio interview as he particularly cited that the average production cost of farmers is PHP12 per kilo, with a markup of PHP10 per kilo.
He said rice farmers can earn an average of PHP30,000 per hectare if they harvest 70 cavans of palay.
"That is an average earning and it depends on the variety of rice seeds. There are some varieties that were being provided by the Department of Agriculture with a high recovery rate," he said.
Paguinto likewise said the price ceiling has minimal effect on rice retailers even if they purchase the grain at a higher price.
"Sa susunod na buwan ay panahon na ng anihan kaya inaasahan na po natin na baba ang presyo ng bigas kapag marami na ang supply (Next month is harvest time, thus we expect the price of rice to go down because there will be a lot of supply)," he added.
Mario Segundo, a farmer from San Isidro, Nueva Ecija province likewise said he is in full support of the enforcement of rice price ceiling as this could help eliminate cartels who are behind the price manipulation of rice.
"Siyempre masaya kami dahil ang mga consumers ay makakabili na ng bigas sa abot kayang halaga. At mawawala na rin ang cartel na syang nagmamanipula ng presyo ng bigas (Of course, we are happy because consumers can now buy rice at an affordable price. The cartel which manipulates the price of rice will also be eliminated)," Segundo said in an interview.
Mayor Mario Salvador of San Jose City, Nueva Ecija, for his part, said he is looking into the possibility of buying rice and selling it at a subsidized price of around PHP43 a kilo for well-milled rice.
"Magbebenta kami at hindi dole out (We will sell and not dole out). Subsidized." Salvador said in an interview, adding that this is a way to help his constituents to be able to buy rice at an affordable price.
He said the price of the staple is expected to go down during the harvest season next month.
There are some 30 rice mill establishments in San Jose City that sell grains to Metro Manila and various parts of the country.
Meanwhile, the Department of Trade and Industry (DTI) is continuously monitoring the price and supply of rice and profiling of rice dealers in the region.
President Marcos' Executive Order No. 39 mandates the DTI and the Department of Agriculture to ensure the strict implementation of the mandated rice price ceilings in the market. (PNA)