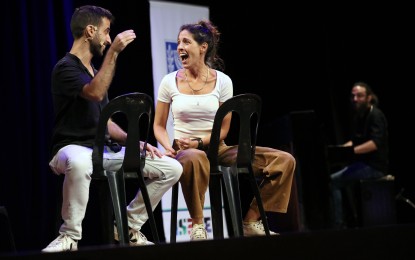 MANILA – The Israeli Embassy in Manila on Wednesday night organized an improv show to honor overseas Filipino workers and the late Migrant Workers Secretary Susan Ople.
At the "Improv Night" in Makati City, the Israeli improvisational group Duda presented four skits using anecdotes from different OFWs in Israel as their prompts.
Improvisation or improv is a form of live theatre where the plot, characters, and dialogue of a story are unscripted and created spontaneously by the performers.
Ople's daughter Susanne Laurie Osorio, who was present at the event, thanked both the embassy and Duda for bringing a creative way to discuss the lives of Filipino workers abroad.
She said the event was a fitting tribute to Ople who was also a "big fan" of comedy and improv.
"You mentioned that you are friends of Filipinos and migrant workers. I really could feel the sincerity of that friendship, because you didn't have to honor my mom this way," she said, addressing Israeli Ambassador Ilan Fluss.
"It's beyond what is required of you but still you dedicated the evening to her. I am super grateful for the friendship that you extended to my mother and to my family."
Fluss said he was honored to have personally witnessed Ople's unwavering commitment and compassionate leadership as she championed OFW rights.
"Her unique blend of pragmatism and empathy made her a formidable advocate for OFWs. Together, we faced numerous challenges, driven by our shared commitment to enhance the lives of these unsung heroes," he said. "Her legacy of compassion, justice, and solidarity continues to inspire us all."
Israel, he said, would continue to do its part and work closely with the Philippine government, especially the Department of Migrant Workers, to ensure that the rights of Filipino workers in Israel are protected and respected.
"In Israel, we have approximately 30,000 Filipinos, mainly caregivers and hotel workers, who have become an integral part of Israeli society. They play a crucial role in caring for our elderly and contributing to our society," he said.
Ople passed away on Aug. 22 at the age of 61.
President Ferdinand R. Marcos Jr. appointed Ople to head the newest department of the government at the start of his administration.
A staunch advocate of OFW rights, Ople founded the Blas Ople Policy Center, named after his father, which assists distressed OFWs in various parts of the world.
Also present at the event were friends of the late secretary, government officials, relatives of OFWs in Israel, and members of the diplomatic community in the Philippines. (PNA)