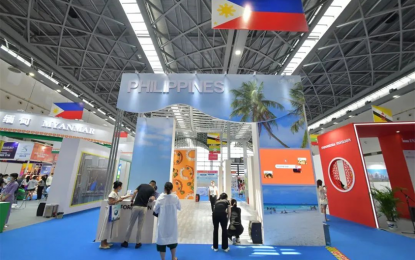 MANILA – A total of 16 enterprises from the Philippines will participate in the 20th China-ASEAN Expo (CAEXPO) that will be held in Nanning, Guangxi Zhuang Autonomous Region in China from Sept. 16 to 19.
Wei Zhaohui, secretary-general of the CAEXPO Secretariat, said the Philippines would use 20 booths in Hall 7, Area D of the Nanning International Convention and Exhibition Center, with focus on food and beverage, home accessories, palm oil, and other special products in their presentation.
"Philippine durian will make its debut there. The CAEXPO Secretariat will also work closely with the Philippines to provide on-site 'one-for-one' trade matching services for Philippine exhibitors," Wei said in a news release on Wednesday.
Fresh durians from the Philippines were allowed to enter the Chinese market beginning this year.
In recent years, China and the Philippines deepened political mutual trust, kept expanding cooperation in several fields, and achieved fruitful results in jointly building the Belt and Road Initiative.
In 2022, their two-way trade amounted to USD87.725 billion as the Philippines became the largest source of banana and pineapple for China, while China has been its largest trading partner for seven consecutive years.
CAEXPO, an international economic and trade event co-hosted by China's Ministry of Commerce, its 10 ASEAN counterparts and the ASEAN Secretariat, has been successfully held 19 times.
'Touchstone'
The Philippines, always committed to this annual trade fair, regards it as a "touchstone" for its products to enter the Chinese market.
It has showcased its national image achievements in various aspects and business opportunities and many Philippine enterprises have benefited greatly from their participation in CAEXPO.
A total of 444 Philippine exhibitors used nearly 1,000 booths in the previous CAEXPO sessions, putting on display its food, agricultural products, handicrafts, textiles and garments, tourism, and trade and investment services, among others.
"Well-known Philippine companies, such as Oishi, Dole (the Philippines) and BDO United Bank have all found their own trade and economic arenas in the trade fair. Thanks to its role as an important platform between China and ASEAN, as well as its continuous promotion of China-Philippines economic cooperation and trade, more and more Philippine food and agricultural products, have found their way to the table of the Chinese people," the CAEXPO secretariat said.
This year's CAEXPO, the secretariat said, would also see comprehensive progress in the China-ASEAN free trade agreement (FTA) 3.0 and entry into force of the Regional Comprehensive Economic Partnership (RCEP) in the Philippines.
The RCEP is a free trade agreement among the Asia-Pacific nations of Australia, Brunei, Cambodia, China, Indonesia, Japan, South Korea, Laos, Malaysia, Myanmar, New Zealand, the Philippines, Singapore, Thailand and Vietnam.
The Philippine Economic Zone Authority will also debut to jointly organize the first Philippine Investment Forum with the Philippine International Trade and Exhibition Center to introduce the investment priorities and preferential policies of the Philippine special economic zone to Chinese investors.
More than 70 investment and trade promotion events will be held to deepen China-ASEAN trade and investment cooperation.
The Secretariat will introduce a series of new initiatives to serve the business communities.
Online CAEXPO, China-ASEAN Business Center and China-ASEAN Mercantile Exchange will provide round-the-clock services for Philippine enterprises to explore the Chinese market. (PNA)