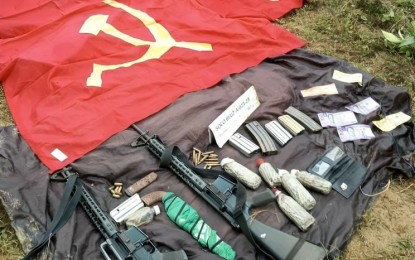 CEBU CITY – Six alleged members of the New People's Army (NPA) were killed in six successive encounters with the Army's Task Group Bohol and the 47th Infantry Battalion (47IB) in Bilar town, Bohol province on Thursday morning.
In a statement released by the 3rd Infantry Division (3ID), government troopers were conducting peace and security operations when they encountered at least nine suspected NPA rebels in Sitio Ilaya.
Lt. Col. Magno Mapalad, commanding officer of the 47IB based in Mabinay, Negros Oriental, told the Philippine News Agency (PNA) that his troops encountered nine remnants of the dismantled Bohol Party Committee under Domingo Compoc, alias Eloy, in six successive encounters starting at about 7:35 a.m.
Government troops also seized seven high-powered firearms during the clashes.
"We acted on information regarding the presence of armed men in the area, which resulted in the series of encounters that lasted until lunchtime," Mapalad said.
The rebels were asking residents for food and supplies, he added.
The first firefight lasted about 7 minutes, after which the enemy retreated south.
Another encounter occurred between the blocking force of the troops and the fleeing NPA members, also in Sitio Ilaya at about 8:28 a.m.
Four more clashes ensued between government troopers and the rebels, which later led to the death of NPA fighters.
"These successive clashes resulted in the death of six NPA (rebels), whose bodies were recovered from different encounter sites in Sitio Ilaya, along with the seizure of seven high-powered firearms," the statement added.
Mapalad attributed the successful military operations to the vigilance and cooperation of the residents in Bohol who provided information to the troops about the movement and attempt of the NPAs to regain their influence in the province.
"Any attempt by the NPA to regain influence with the people of Bohol will not succeed because the people of Bohol are willing to support the soldiers by providing noteworthy information on the whereabouts and activities of these NPA terrorists," he said, urging the remnants to surrender and avoid experiencing the same fate as their comrades have suffered in previous encounters.
On May 12, alias Jasper, an alleged political guide of the NPA's Bohol Party Committee, was also killed in an encounter with government forces in Antequera, Bohol. (PNA)