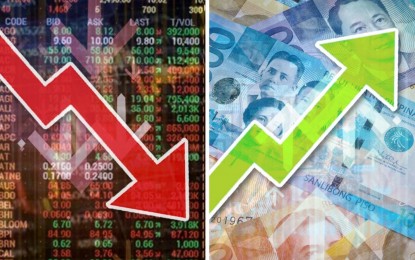 MANILA – The local stock market joined most of its neighboring peers in a decline as investors reacted to higher US Treasury yields and lower trade data in China, while the peso rebounded on Thursday's trading.
The Philippine Stock Exchange index (PSEi) ended its four-day rally as shares dropped by 58.62 points to 6,183.07 level, with All Shares down by 21.26 points to 3,346.99.
All sectors closed in the negative territory except for Services, which slightly increased by 6.56 points to 1,524.07.
"The local bourse joined many of its neighboring peers in a decline caused by the rise in the US' Treasury yields and concerns over China's economy following its dismal August foreign trade data, with imports and exports dropping 7.3 percent and 8.8 percent year-on-year, respectively," Philstocks Financial, Inc. research and engagement officer Mikhail Plopenio said.
Holding Firms had the biggest losses at 88.57 points closing at 5,938.71. This was followed by Mining and Oil, down by 54.21 points to 10,081.85; Property, 28.16 points to 2,544.33; Financials, 19.58 points to 1,800.42; and Industrial, 18.03 points to 8,816.64.
"Market participation was weak with a net value turnover of PHP3.50 billion, lower than the year-to-date average of PHP5.18 billion, as many opted to remain on the sidelines. Foreigners were net sellers with net outflows amounting to PHP720.98 million," he said.
Counters closing in the red outpaced those in the green at 96 to 62, with shares of 50 firms were unchanged.
"Among the index members, Wilcon Depot, Inc. was at the top, climbing 4.11 percent to PHP22.80. SM Investments Corporation lost the most, shedding 3.74 percent to PHP824," Plopenio added.
Meanwhile, the peso bounced back this day to 56.79, gaining 0.15 from the previous day's close of PHP 56.94 to a US dollar.
It opened the day at 56.85 from 56.90 kick off on Wednesday.
The currency pair traded between a low of PHP56.77 to a high of 56.97, bringing the weighted average to 56.85.
Total volume increased to USD1.45 billion from USD1.34 billion in the previous trading. (PNA)