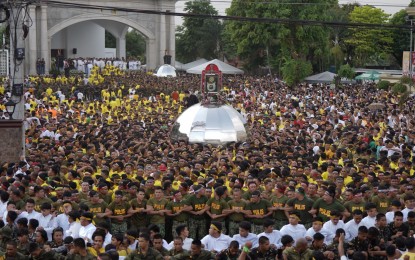 LEGAZPI CITY – More than half a million devotees filled the streets of Naga City on Friday as they participated in the traditional procession of the Traslacion of the images of the Divino Rostro and Our Lady of Peñafrancia from the Old Shrine to the Naga Metropolitan Cathedral.
To ensure the safety of the huge crowd, Mayor Nelson Legacion said only city-authorized drone operators were allowed to cover the event.
Based on the initial data from the city's Joint Operations Committee, a crowd estimate of 550,000 devotees joined the procession.
"Flying of personal drones surrounding the Peñafrancia Shrine, the Naga Metropolitan Cathedral, and along the procession route is not allowed so as not to cause any more distraction to the sacred mass," Legacion said in a social media post.
Earlier, the mayor suspended classes and government work in the city to ensure public safety, maintain order and effectively manage vehicular and human traffic.
Meanwhile, a total of 2,316 uniformed personnel of the Police Regional Office-5 (Bicol) were deployed to ensure an orderly and peaceful celebration of the Peñafrancia Festival.
In an interview on Friday, Lt. Col. Malu Calubaquib, PRO5 spokesperson, said the personnel will render police duties in Naga City and implement various security measures to ensure the safety of pilgrims who would participate in the religious feast.
"Police personnel were deployed to oversee the series of activities and festivities scheduled throughout the month. This deployment includes personnel from different police provincial offices, individuals undergoing mandatory and service training, as well as the Regional Mobile Force Battalion and the Regional Special Training Unit," Calubaquib said.
She said the lawmen were assigned to "manage traffic flow, conduct intensive police presence and mobile patrols in key tourist areas, establish strategic checkpoints, and respond swiftly to any unforeseen incidents or emergencies that may arise".
An Area Command Post was established at the Naga City Police Office functioning as a central hub for monitoring and promptly addressing situational developments in the area. This setup facilitates efficient police response in case of any incidents.
PRO5 has also formulated contingency plans to proactively address potential incidents that could disrupt the overall peace and security during the festival.
Motorist Assistance Centers manned by operatives of the Philippine National Police (PNP) and Armed Forces of the Philippines (AFP), as well as force multipliers have been strategically placed to swiftly respond to any occurrences during the festivities.
In a statement, PRO5 Regional Director Brig. Gen. Westrimundo Obinque ordered all units to intensify anti-criminality operations, aiming to deter and prevent criminal groups from exploiting the large gathering of festival-goers.
The Peñafrancia Festival is widely regarded as the biggest religious event in Bicol, dedicated to honoring the feast day of Our Lady of Peñafrancia, the patroness of the region. (PNA)