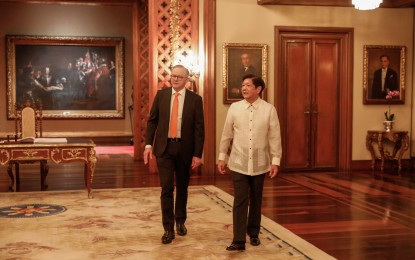 MANILA – Australia has expressed support for the "final and binding" 2016 ruling on South China Sea (SCS) that favors the Philippines and invalidates China's sweeping claims over the hotly contested waters.
The affirmation of support was made during President Ferdinand R. Marcos Jr.'s bilateral meeting with Australian Prime Minister Anthony Albanese at Malacañan Palace in Manila on Friday.
"We have collective responsibility for security, including support for the UN Convention on the Law of the Sea (UNCLOS). That's very important. And Australia does support, as I say at the East Asia Summit, the 2016 South China Sea arbitral award. That is final and binding," Albanese told Marcos.
Albanese said Australia shares "common views" with the Philippines on important security issues, including the need to uphold international law.
Stressing the importance of having a "stable and prosperous" region, Albanese said Australia would continue to be "very consistent" in expressing support for the Philippines, especially on the SCS issue.
Marcos thanked Australia for its stance that maritime claims in the Philippine territory "are not valid and have not been recognized and not in conjunction or consistent with international law."
"To have friends like you and partners like you especially on that subject is very gratifying and encourages us to continue down that path. So we thank you for that," he told Albanese.
The Philippines is among the countries in the Association of Southeast Asian Nations (ASEAN) that have overlapping claims in the SCS, with 80 percent of it being claimed by China.
On July 12, 2016, Manila won its arbitration case lodged against Beijing before the Hague-based Permanent Court of Arbitration (PCA).
China, however, continues to reject the PCA ruling, and even recently released an updated map using a 10-dash line map.
In his intervention during the 43rd ASEAN Summit Retreat on Tuesday in Jakarta, Indonesia, Marcos urged his fellow Southeast Asian leaders to "never allow the international order to be subjected to the forces of might applied for a hegemonic ambition."
Marcos made the call, as he said the Philippines continues to prefer a peaceful resolution of the SCS dispute and encourages ASEAN members to not be swayed by "any single power."
During the 18th East Asia Summit on Thursday, Marcos called on ASEAN member-states to come together through the regional bloc's "centrality and universal multilateralism" against the "unilateral and assertive activities" in the SCS.
'Great friends'
Meanwhile, Albanese said Australia and the Philippines are "great friends" and expressed optimism that his visit would elevate the two nations' partnership "to an even higher level."
Albanese hoped that the new strategic partnership would strengthen the two countries' bilateral ties.
He said he looks forward to increased trade and economic engagements between the two nations.
Marcos said the closeness between Australia and the Philippines is "terribly important," citing the people-to-people exchanges that have benefitted the Filipinos residing and working in Canberra.
"Once again, the Filipino nationals who live in Australia and have chosen to go, live and work there, are very happy to have been assimilated properly into Australian society. And for that, we are very grateful," he said. (PNA)