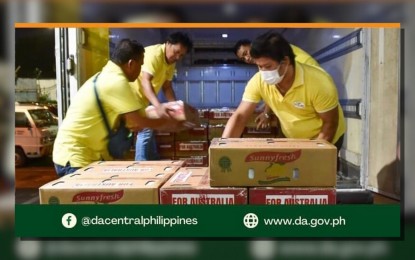 MANILA – The Philippines has started exporting again fresh mangoes to Australia, the Department of Agriculture-Bureau of Plant Industry (DA-BPI) reported on Friday.

DA-BPI Director Gerald Glenn Panganiban said the country initially sent off some 1,500 kilograms of Carabao mangoes during a simple ceremony on Sept. 6 held at the Philippine Airlines (PAL) cargo terminal.
"The export of fresh mangoes to Australia is a milestone achievement for our agricultural sector. The meticulous planning, rigorous adherence to international quality standards, and continuous efforts of our farmers and exporters have culminated in this momentous occasion," he said in a statement.
Panganiban said the endeavor opened new horizons for the country's agricultural produce and strengthened the bonds of international trade.
DA-BPI Assistant Director for Research, Development and Production Support Services Herminigilda Gabertan said the partnership with the DA-BPI, Bureau of Customs (BOC), PAL, and the Hi-Las Marketing Corporation that shipped the mangoes to Sydney and Perth, marked the first fresh mango export from the Philippines to Australia in 10 years.
"It was in 2013, when we last exported mango to Australia, so this is a big step towards our mango industry development considering that we really need to promote these products outside of our country," she said.
Gabertan also thanked the exporters from Hi-Las and other partners in the private sector and assured them that the government, particularly the DA-BPI and the BPI-National Plant Quarantine Services Division (NPQSD), will always assist them.
For his part, Hi-Las president/chief executive officer Roberto Angelo Amores II is hoping that the endeavor will open more opportunities for the country's mango industry.
"With this commencement of the export to Australia, we hope that we are able to ship more of our good quality products across the globe for us to be able to return to the market. We're very thankful for the opportunity that we are able to penetrate some new foreign market(s) again. Hopefully, this will result in higher export volume," he said.
Also present at the event were BOC NAIA Customhouse Export Division Chief Calil Dimangadap, exporter Joseph Bautista, and PAL Cargo Sales International account executive Adriane Placido. (PNA)