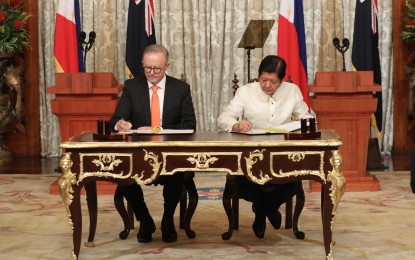 MANILA — The Philippines and Australia on Friday elevated their relationship to strategic partners to have a deeper collaboration in a wide range of areas aimed at bringing a "more dynamic, cooperative, and prosperous future" to both nations.
The Joint Declaration on Strategic Partnership between the Philippines and Australia was signed by President Ferdinand R. Marcos Jr. and Australian Prime Minister Anthony Albanese following their bilateral meeting at Malacañan Palace in Manila.
In a speech delivered after the signing ceremony, Marcos said the elevation of relations from a comprehensive partnership to a strategic partnership is a "very, very important development" for the two countries, citing their "long history of cooperation and an even longer history of friendship."
"The signing of the Joint Declaration on Strategic Partnership signals our mutual commitment to deepening collaboration across the spectrum of areas that are vital to both our countries' growth and prosperity," Marcos said.
"Let the elevation of our relations to a strategic partnership usher in a brighter and more prosperous future for both our people," he added.
Albanese said the strategic partnership is "an important symbol of the strength of their relationship and a shared commitment to do more together."
He noted that he and Marcos had "constructive discussion" about the potential cooperation of the countries on four particular sectors, including agriculture, education, resources and green energy transition.
"Australia is ambitious for what we can achieve with the Philippines," Albanese said.
Twin pacts
Marcos and Albanese also witnessed the exchange of two agreements that seek to deepen the Philippines and bilateral relations on people-to-people exchanges and science and technology.
Foreign Affairs Secretary Enrique Manalo and Australian Ambassador to the Philippines Hae Kyong Yu presented the memorandum of understanding (MOU) on a work and holiday visa arrangement to provide an avenue for young people to learn about each country's cultures through tourism.
Yu and Science and Technology Secretary Renato Solidum Jr. also presented the MOU on cooperation to co-develop initiatives supporting soil health strategy through joint research, capacity-building, experts and knowledge exchange and science-based support to policy.
"I'm confident that these partnerships will drive innovation, create opportunities and foster deeper understanding between our peoples. As we look ahead, our shared responsibilities as strategic partners become even more profound," the President said.
"The evolving dynamics of our world demand collaboration that is proactive, innovative and adaptable. By leveraging each other's strengths, we can amplify our collective impact and contribute positivity to the challenges and opportunities that lie before us," Marcos added.
'Comprehensive' discussion
Marcos said he and Albanese had a "comprehensive" discussion during the bilateral meeting, focusing on a wide range of topics such defense and security cooperation, economic and trade relations, maritime affairs and sustainable development goals.
He said they affirmed their shared commitment to peace, security and the development in the region.
"It is heartening to find that our visions for the future are quite closely aligned and our goals for regional stability and prosperity resonate strongly," Marcos said. "Both the prime minister and I acknowledged that our shared values, the democratic principles, and mutual respect for international law have been instrumental in fostering a strong partnership." (PNA)