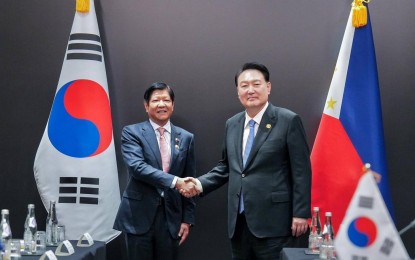 MANILA — The Korean government hailed as a "milestone" the newly signed Free Trade Agreement (FTA) with the Philippines, describing it a timely development as the two states mark 75 years of diplomatic relations in 2024.
In a statement, the Korean Embassy in Manila said it expects the deal "taking effect in the first half of next year" but the timeframe would still depend on the "parliament of both countries".
"[T]he Korean government is planning to move forward in efforts to make the process run more smoothly including ratification in the National Assembly to ensure that the people and businesses of both countries can enjoy benefits soon," it said.
The FTA will not only include tariff cuts but also expand technical cooperation on various areas such as health care and climate change.
"Based on this groundwork, the mutually-beneficial bilateral discussions will be pursued through a variety of cooperation in promising areas, including healthcare, rare metal processing, innovation Ecosystem, culture industry, film, e-commerce and intellectual property rights," the embassy said.
Trade Secretary Alfredo Pascual and his Korean counterpart Trade Minister Ahn Duk-geun signed the Philippine-Korea FTA and the Implementing Agreement on Economic and Technical Cooperation on the sidelines of the 43rd Association of Southeast Asian Nations (ASEAN) Summit in Jakarta on Sept. 7.
Also witnessing the signing were President Ferdinand R. Marcos Jr. and Korean President Yoon Suk Yeol.
Under the agreement, the Korean Embassy said Seoul will lift tariffs on 94.8 percent of Philippine products while the country will open its market on 96.5 percent of Korean products.
The FTA will immediately eliminate the tariff on cars from Korea upon the deal's entry into force while tariff on car parts will be removed in five years, it said.
Tariffs on Korean processed food (5-10 percent), ginseng (5 percent), pepper (5 percent), pear (7 percent), mackerel (5 percent) are also subject for removal within 15 years.
The embassy said the tariff for Philippine bananas will be removed within five years but a safeguard measure will be implemented to avoid a surge in imports, if required.
The FTA signing came more than a year after Manila and Seoul concluded negotiations in October 2021 and did some "legal scrubbing" on the deal's concluded chapter texts on Trade in Goods, Trade Remedies, Customs Procedures and Trade Facilitation, Rules of Origin, Competition, among others.
This is the Philippines' second bilateral FTA after signing the Economic Partnership Agreement with Japan in 2008.
South Korea is the country's 4th major trading partner, with bilateral trade reaching USD15.44 billion in 2022.
Philippine exports to South Korea grew by 21.48 percent from USD2.57 billion in 2021 to USD3.13 billion in 2022.
Philippine imports from South Korea also expanded by 31.72 percent from USD9.35 billion in 2021 to USD12.32 billion in 2022. (PNA)