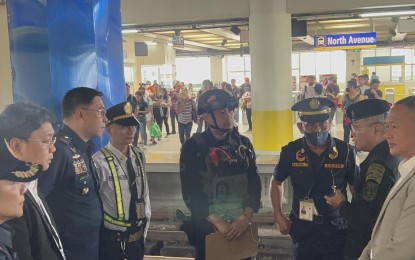 MANILA – The Department of Transportation (DOTr) on Friday activated its inter-agency task force to secure and inspect facilities of the Metro Rail Transit Line 3 (MRT-3) in response to an alleged bomb threat sent through e-mail.
In a statement, the agency's IATF said security deployment has been enhanced in all transportation sectors.
"We are taking the necessary precautionary measures to ensure the safety and security of the riding public," the statement read.
The IATF is composed of the Office for Transportation Security (OTS), the Department of Information and Communications Technology - Cybercrime Investigation and Coordinating Center (DICT - CICC), the Quezon City Police District (QCPD) and railway security.
Immediately after the bomb threat, OTS chief Undersecretary Mao Aplasca, DOTr Undersecretary for Railways Cesar Chavez, CICC Chief Undersecretary Alex Ramos and QCPD acting director Brig. Gen. Redrico Maranan inspected the North Avenue station in Quezon City.
The task force called on the public to refrain from circulating or sharing unverified information to prevent panic.
It assured that assessment is ongoing to verify the threat's credibility.
"The task force would like to assure commuters that we are taking all actions to ensure safe and secure travel in all public transport systems," it added.
In a later statement, the MRT-3 said an inspection yielded no trace of any items that could've posed dangers to the public.
"However, we are still maintaining our enhanced security posture to maintain public confidence. We also enjoin the public to report to authorized agencies any suspicious activities that would potentially cause danger to the public," the statement read.
Spreading false information about or making bomb threats is punishable by law.
Under Presidential Decree 1727, it carries imprisonment of not more than five years or a fine of not more than PHP40,000, or both, involving "word of mouth or through the use of the mail, telephone, telegraph, printed materials and other instrument or means of communication."
Bomb threats are also punishable by a 12-year imprisonment under Republic Act 11479 or Anti-Terrorism Act. (PNA)