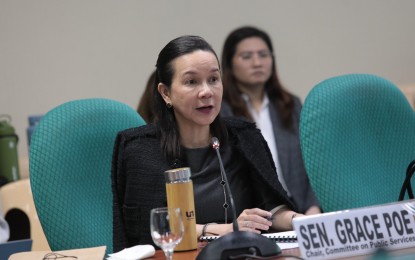 MANILA – Senator Grace Poe requested on Friday concerned agencies and telecommunications companies (telcos) to make "selfies" a requirement in the subscriber identity module (SIM) registration.
To prevent more fraud and scamming, Poe said selfies or one's photograph taken by oneself, should be part of the implementing rules and regulations (IRR) of Republic Act 11934 or the SIM Registration Act.
"Kahit nandyan na ang SIM Registration law, hindi nawala ang scammers. Kaya pakiusap ko na isama na ang live selfie sa requirement ng (Even with the SIM Registration law in place, scammers are still there. That is why I am calling to include live selfie as a requirement for the) registration," she said.
Poe, who chairs the Senate Public Services Committee, renewed her push for the selfie requirement after the National Bureau of Investigation bared in a hearing that it was able to register a SIM using a fake government ID bearing the photo of a monkey.
Before this, several raids in alleged cybercrime hubs also yielded thousands of SIM cards that have been pre-registered and containing e-wallet purportedly used in the scam operations.
"We have seen that fake government IDs can get through the telcos' system. The selfies will be an added line of defense in the SIM verification process," Poe said.
The lawmaker said the National Telecommunications Commission should come up with a reinforced Implementing Rules and Regulations while also ensuring the protection of subscribers against privacy violations.
Telcos, Poe said, should also make an extra effort that would make it easy for subscribers to comply with the selfie requirement, especially those in far-flung areas and without internet access.
She added that tracking down scammers would be more efficient with the government and telcos working closely.
Earlier, Senator Francis Tolentino suggested imposing higher payment for the registration of a fourth SIM card which he said can prevent the proliferation of text scammers who tend to buy multiple SIM cards to use different phone numbers in their illegal activities. (PNA)