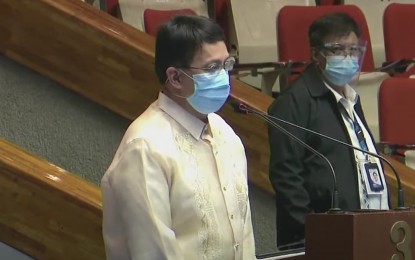 MANILA – The free college education system in state universities and colleges should ensure equity-based access, which can be facilitated by priority treatment of the poor, a lawmaker said on Friday.
Northern Samar 1st District Rep. Paul Daza made the statement in response to Finance Secretary Benjamin Diokno's proposal to review the Universal Access to Quality Tertiary Education Law (Republic Act 10931) to ensure that resources are "optimally allocated."
Daza said the law is not the problem as it is crucial to the vision of alleviating poverty.
He proposed that the priority treatment of the poor will "cure" the inherent "discrimination" in entrance exams in SUCs, wherein graduates from private schools naturally score higher in entrance exams.
"What is needed is to ensure that those who genuinely qualify for free tertiary education, particularly, the poorest, are really the ones benefiting from it," he said.
Diokno, in his proposal, cited the need to focus on the K-12 curriculum, nationwide screening tests to filter who will be entitled to free college education, provide a four-year voucher for those who passed with an option to choose between public or private university, and reduce the existing number of 117 SUCs in the country through mergers to avoid "wastefulness" and "inefficiency."
But Daza said guidelines for entry in SUCs must be established so that more of the underrepresented groups like children of families in the Pantawid Pamilyang Pilipino Program (4Ps), indigenous groups, rebel returnees, and other marginalized groups are prioritized.
"We can also include children who will be the first in the family who will be able to get a college degree," he said. "Let's ensure those who qualify for slots in SUCs - UP among them - are really among the poorest. I call on the Commission on Higher Education (CHED) to consult SUCs and Congress and then issue a memorandum on this."
He also highlighted the multiplier effect of education, noting that for every PHP10 of public investment, the gross value added is estimated at PHP46.50 based on estimates from a study in Germany that was adjusted to domestic economic factors.
He called on CHED and the National Economic and Development Authority (NEDA) to come up with their own study on the multiplier effect of free tertiary education.
"There will always be different ways to look at a problem, but getting rid of an important solution because some of its parts are not working well is like saying that we need to throw the whole car because the tires are flat," Daza said.
CHED Chairperson J. Prospero de Vera III earlier underscored the need for equity and financial support for SUCs in the country under the Universal Access to Quality Tertiary Education Act.
He said an admission test for all students desiring to enter higher education should be only equity-driven.
"The public universities need financial support because, especially during Covid, there was a significant shift of enrollment to public universities," he said.
Based on the CHED's data, the participation rate in higher education increased to 41 percent, much higher than 32 percent before the free tertiary education program was rolled out.
De Vera warned that if the funding is left neglected, the quality of higher education may suffer. (PNA)