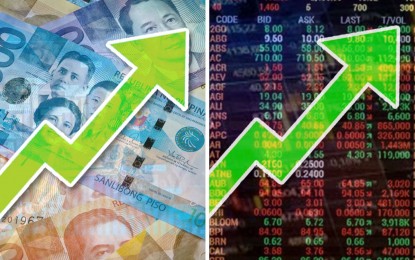 MANILA – Local shares and the currency finished strong Friday on the back of robust employment data released by the government.
The benchmark Philippine Stock Exchange index (PSEi) regained 39.87 points to 6,222.94, with broader all shares also increasing by 13.24 points to 3,360.23.
"The Philippine employment rate in July remained strong at 95.2 percent which, somehow, boosted the sentiment," Philstocks Financial, Inc. research associate Claire Alviar said.
Sector performances were mixed with biggest losses coming from Financials at 6.96 points, followed by Mining and Oil and Industrial at 3.43 and 0.52 percent, respectively.
Those closed in the positive territory were led by Holding Firms, with shares up by 45.39 points; followed by Property, 44.57 points; and Services, 9.86 points.
"The net market value turnover was still weak at PHP3.12 billion as investors were still waiting for a strong positive catalyst," Alviar added.
Advancers outpaced losers at 91 to 83, while 46 issues were unchanged.
Meanwhile, the peso strengthened for two consecutive trading days, gaining by another PHP0.16 on Friday.
It ended the day at 56.63 from previous day's closing at 56.79 to a US dollar.
The local currency opened the day strong at 56.74 from Thursday's kick off at 56.85 to the greenback.
The currency pair traded between 56.56 and 56.79, bringing the average level for the day at 56.66 to a dollar.
Volume of trade reached USD1.62 billion, higher than Thursday's volume of USD1.45 billion.
"For next week, the US dollar/peso exchange rate could range at 56.30 to 56.80 levels," Ricafort said. (PNA)