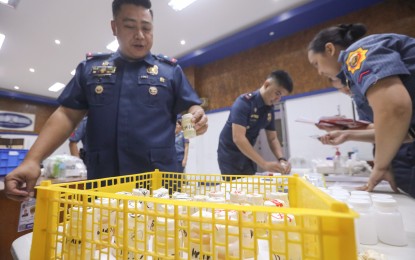 MANILA – The Philippine National Police-Forensic Group (PNP-FG) stood by its findings that sacked Mandaluyong Police chief tested positive for illegal drugs.
PNP-FG director Brig. Gen. Constancio Chinayog said Saturday that the office will not recognize the belated negative drug test results of former Mandaluyong police chief Col. Cesar Gerente.
"What we honor for purposes of investigation and challenging the tests we conducted is for third-party entities to conduct the drug test using the same urine sample where he tested positive," PNP-FG director Brig. Gen. Constancio Chinayog said.
Gerente tested positive for drugs during the screening test on Aug. 24 conducted in Camp Bagong Diwa in Taguig City.
A second drug test on Aug. 26 confirmed his urine sample was positive for methamphetamine hydrochloride, the active ingredient of shabu or crystal meth.
"He can present whatever he has, but for the Forensic Group, we stick to our findings," Chinayog noted.
Gerente insisted that he was not a drug user.
"I am not an addict. I am not a user," Gerente said in Filipino during an interview with GMA News on Thursday night, adding that his request for another urine test was rejected.
He suspected that being exposed to drug evidence and his intake of maintenance medicines, particularly rosuvastatin (for lowering bad cholesterol) and metformin (for treating type 2 diabetes), might have been reasons for yielding positive drug tests.
He showed that he tested negative for illegal drugs in subsequent drug tests conducted by the Philippine Drug Enforcement Agency and a Department of Health-accredited testing center on Aug. 29 and by the National Bureau of Investigation on Sept. 6.
From Jan. 1 to Aug. 31, a total of 25 police officers, including Gerente, tested positive in confirmatory drug tests conducted on more than 115,000 personnel.
Since January, eight police officers across the country have been dismissed from the service after testing positive for illegal drug use.
PNP chief Gen. Benjamin Acorda Jr. previously said random drug tests will continue as part of internal cleansing efforts. (PNA)