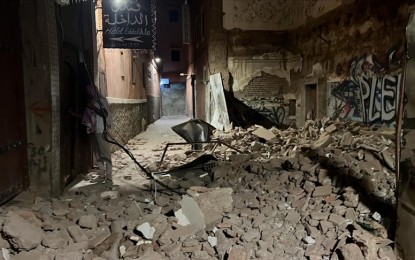 ANKARA – At least 296 people were killed and 153 sustained injuries following a powerful earthquake that struck Morocco, the country's Interior Ministry said Saturday.
Fatalities from the magnitude 7 quake occurred in various regions, including Al Haouz and Marrakesh provinces, as well as the cities of Ouarzazate, Azilal, Chichaoua and Taroudant, Morocco's Royal Armed Forces wrote on X, citing the interior minister.
Local media said the quake was recorded in Al Haouz province within the Marrakech region, occurring at around 11.10 p.m. local time.
Several aftershocks were subsequently felt across a significant part of the country, affecting cities such as Casablanca, Rabat and Agadir.
The United States Geological Survey (USGS) previously said a magnitude-6.8 quake rattled central Morocco late Friday.
The epicenter was 75 kilometers (46.6 miles) southeast of Marrakech, striking shortly after 11 p.m. at a depth of 18.5 kilometers.
Morocco's National Seismic Monitoring and Alert Network assessed the earthquake at magnitude-7 on the Richter scale.
Videos on social media captured the immediate aftermath and showed residents spilling out onto the streets.
The situation is particularly dire in the Marrakech region, where numerous houses have collapsed and residents trapped under debris. These distressing scenes have been corroborated by multiple videos showing pleas for help on social media.
Morocco's Royal Armed Forces issued warnings to citizens, urging them to exercise caution and directing them toward safe areas to shield them from aftershocks.
The tremor was felt not only across Morocco but also in neighboring Algeria and Mauritania. (Anadolu)