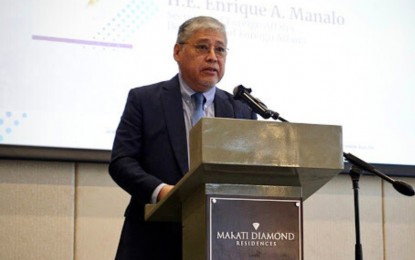 MANILA – Department of Foreign Affairs (DFA) Secretary Enrique A. Manalo will visit Buenos Aires on Sept. 11 to 16 as part of the Philippine government's continued efforts to strengthen cooperation with Argentina.
Manalo's visit also marks the 75th anniversary of the establishment of diplomatic relations between the Philippines and Argentina, the DFA said in a statement Sunday.
The DFA official will be received by his Argentine counterpart, Minister for Foreign Affairs Santiago Andres Cafiero, on Sept. 13, to discuss cooperation agenda between the two countries, particularly science and technology, including the peaceful uses of nuclear energy and outer space; agriculture; trade and investments; and cultural relations.
"The Secretary will also speak about the longstanding bilateral relations and cooperation between the two countries in the multilateral arena at the Consejo Argentino para Relaciones Internacionales, the foremost think tank in Argentina; and the Universidad de Belgrano," said the DFA.
The Philippines is the first ASEAN country to establish relations with Argentina.
According to the DFA, Manalo's visit demonstrates the country's commitment to forging stronger and deeper bonds with Latin America, a region which the Philippines shares many cultural and historical commonalities. (PNA)