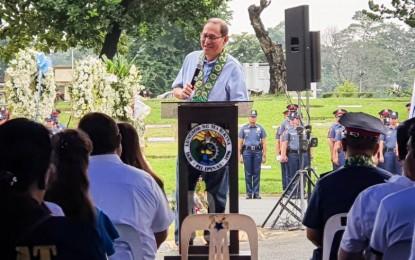 MANILA – The local government of Marikina City on Sunday paid tribute to the selflessness and dedication of fallen members of the local police force.
"They gave their all in service of our country, in service of our city. Let us take inspiration from their courage, their loyalty and their commitment to service. They have left a legacy in the hearts of all of us present here," Marikina Mayor Marcelino Teodoro said during the 36th Marikina Police Memorial Day.
The event, attended by families of fallen police officers, officers and members of the Marikina Police and the city government, was held at Loyola Memorial Park where a monument was erected in recognition of the officers who died in the line of duty.
"More than a monument, it is a reminder for those who were once sons, daughters, sisters, brothers, fathers, and mothers; it is a salute to those who chose to spend their lives in service of others until the very end," said Teodoro.
The Marikina police gave a 21-gun salute during the commemoration. (PNA)