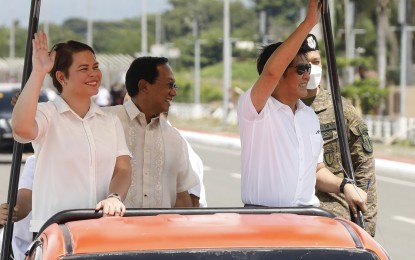 MANILA – Vice President Sara Z. Duterte on Monday thanked President Ferdinand R. Marcos Jr. for attesting to the legitimate spending of 2022 Confidential Fund (CF) of the Office of the Vice President (OVP).
In a statement, Duterte also mentioned Executive Secretary Lucas Bersamin, Department of National Defense Secretary Gilbert Teodoro, and Marikina 2nd District Rep. Stella Quimbo who have contributed to defending the budget of the OVP.
"I want to express my heartfelt gratitude to President Ferdinand Marcos Jr and to several officials of the Marcos administration who stood by the Office of the Vice President as it faced the storm of attacks on the 2022 Confidential Fund," Duterte said.
"These efforts are genuinely appreciated because they help counter the lies told by Rep. France Castro and the Makabayan bloc in Congress on the 2022 OVP CF," she added.
Bersamin, Duterte said, provided a detailed presentation about the 2022 OVP CF which proved that it violated no law and refutes the sentiments of its critics.
Duterte also mentioned Senate Deputy Minority Leader Risa Hontiveros whom she said "could only wish the 2022 OVP CF was accessed illegally."
"It's a shame they still cannot produce any proof to support their dirty imagination. The indignity they have caused Congress and the Senate should be enough for us not to give them serious attention," Duterte said.
"But I believe the lies they peddled to the public will eventually lose their charm and the OVP and DepEd will persist, be vindicated, and realize their aspirations for the Filipinos and the country," she added.
The opposition lawmakers from the House of Representatives have been insisting that the transfer of presidential contingency funds to the OVP last year is illegal.
Last week, the Office of the Executive Secretary (OES) said the disbursement was made pursuant to Special Provision No. 1 under FY 2022 Contingent Fund.
"Under Special Provision No. 1, the President is authorized to approve releases to cover funding requirements of new or urgent activities of NGA (national government agencies), among others, that need to be implemented during the year," the OES noted, saying President Marcos recognized the need to release the said budget to help in the OVP's initiative and after the recommendation of the Department of Budget and Management. (PNA)