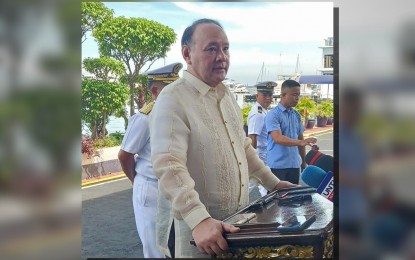 MANILA – Department of National Defense (DND) Secretary Gilberto Teodoro Jr. on Monday called out the China Coast Guard for its "irresponsible behavior" after its ships and those of its militia performed dangerous maneuvers to stop latest resupply efforts to the Philippine detachment manning the BRP Sierra Madre in Ayungin Shoal last week.
Teodoro maintained that the resupply efforts to the BRP Sierra Madre and its detachment will continue.
"And of course the Philippine Coast Guard (PCG) vessels were once again dangerously harassed, this is to me irresponsible behavior on the part of the Chinese Coast Guard (CCG) and I think that the world knows who is in the right here, so it doesn't need much more saying, or talking about, the world has reacted before to the water cannoning," he said in an interview shortly after the christening and commissioning of the two more ships of the Philippine Navy's Alvarez-class patrol vessels.
While no water cannoning took place during this resupply mission, he said the Chinese vessels' dangerous maneuvers against the PCG vessels escorting the two resupply boats are an "egregious violation (of) maritime safety".
"Hindi ako kapitan ng barko pero kita mo naman ang panggitgit nila at kung may mangyari sino ang sasagot? Ano ang mangyayari? (I am not a ship's captain but you can see how closely they tried to corner and tail our ships, and should something happen, what will happen then?)," the Defense chief noted.
Despite this, Teodoro said the Philippines will continue to escort supply boats involved in the "RORE" (rotation and resupply) mission .
"Tayo dire-diretso lang nage-escort ng ating 'RORE' vessels eh sila nanggigitgit ng ganun. So sino ang iresponsable dito? Sa akin obvious na po ang kasagutan (We will continue to escort our 'RORE' vessels, they are the ones cutting and tailing our ships. Who are the irresponsible ones in this case? The answer for me is obvious)," he noted.
Quizzed on whether it is about time to let PN ships escort the RORE missions, Teodoro said he is more inclined to wait first for the recommendation of the PN chief, the Armed Forces of the Philippines chief of staff, and National Security Council.
"Hindi ko masasagot yan ngayon (I cannot answer that for now). That's an operational endeavor so I don't want to give any opinions on that. I would like to be fully informed and then there is a process for discussing this," he added. (PNA)