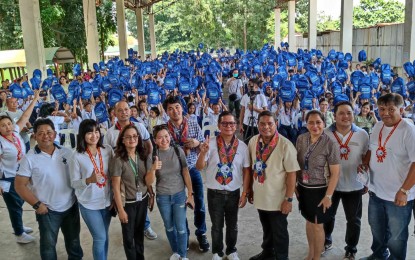 TIAONG, Quezon – More than 2,000 elementary school students in this town on Monday received school bags containing notebooks, pad paper, pencils and pens as part of the municipal government's commitment to better education.
Mayor Vincent Arjay Mea told reporters present during the distribution that the broader plan of the provincial government is to supply school supplies to about 27,000 students enrolled in 35 schools in Quezon's first and second districts.
He said that the distribution of free school supplies was in response to the clamor of school principals and teachers for more government aid to students who come from financially struggling families.
Donna Añonuevo, school principal at Lusacan Elementary School, said it was the first time in school history that all students were given school supplies.
A total of 1,700 students from kindergarten to senior high school received their much-awaited study paraphernalia.
Similarly, 369 students of San Isidro Elementary School also received their school supplies on Monday.
Mea said his town still needs 92 classrooms and his administration continues to find ways to finance their construction.
Quezon Governor Helen Tan also pledged funding for four additional classrooms, according to Mea. (PNA)