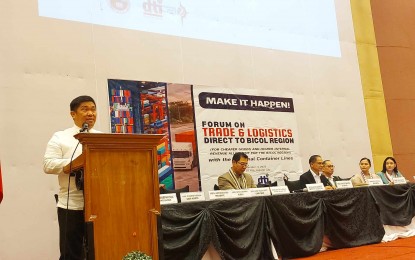 LEGAZPI CITY – The projected opening of the first international container line in Bicol before the end of the year is expected to generate more jobs, give higher revenues, and pave the way for new businesses that will help boost the region's economic growth.
Segundo Sigmundfreud Barte Jr., Bureau of Customs (BOC) acting district collector, on Tuesday said they are looking forward to the maiden voyage of the Regional Container Lines (RCL) before December.
RCL is a Thai-based container shipping line company with some 40 years of experience.
Barte said its much-awaited operations will help to decentralize port activities in the country.
"We have commitments already, we have 100 twenty-foot equivalent (TEU) or 50 TEU containers with construction materials import. Sa laki ng Bicol, marami ang nagsasabi na maski walang export, subukan natin para makita ng tao na talagang pwede mangyari, na possible talaga (With the huge size of Bicol, many say that even if there is no export, let's try so that people may see that it really can happen, that it is really possible). I don't think with Bicol Region connecting Samar and Leyte and in Southern Luzon in Cavite, Laguna, Batangas, Rizal, and Quezon (Calabarzon) areas, pwede manggaling dito dahil congested na masyado ang National Capital Region (can come from here because the National Capital Region is already too congested)," Barte said in an interview.
He said the region anticipates an increase in the Internal Revenue Allotment with the payment of taxes and duties in the Port of Bicol.
"The international container line will bring more opportunities, magkakaroon ng maraming bodega, maraming mamimili as far as Samar and Leyte, pwedeng dito na mamili sa Bicol kasi highway siya (there will be many warehouses, many buyers from as far as Samar and Leyte, can shop here in Bicol as it is a highway). Bicol Region is a nice place to become an economic hub," Barte said.
He also said the initiative will provide for a concrete list of exporters in the Bicol region.
"Distorted ang statistics natin, hindi na nakikita if ilan talaga ang lumalabas na exports. Kahit yong ating National Economic and Development Authority (NEDA) they're relying on the data of the DTI na sila rin naman nag-rerely sa data ng BOC. So nakita ito ng national, so we need to coordinate and saka natin nakita na may mga exporters na direct sa Manila (Our statistics are distorted, it is no longer clear as to the exports being shipped out. Even our National Economic and Development Authority (NEDA), they're relying on the data of the DTI (Department of Trade and Industry) which also relies on the data of the BOC. So it was seen by the national, so we need to coordinate and then we saw that there are exporters who go directly to Manila)," Barte said.
During the "Trade and Logistics, Direct to Bicol Region" forum held in this city on Monday, BOC, the Department of Trade and Industry, the Philippine Ports Authority and other concerned agencies invited accredited exporters, business sector leaders, local government unit officials and local enterprise owners to encourage more exporters and to show the readiness of the government to make the conduct of business easier and more efficient.
In the meeting, Marlon Isah de Guzman, RCL general manager, said he was optimistic about their route and that they will be able to establish a good market in the Bicol region.
He added that based on their inspection at the Tabaco Port, "it is okay and we will coordinate with the proper authorities to get the requirements needed by an international container to call Tabaco."
For his part, DTI-Bicol Regional Director Dindo Nabol said the establishment of an international shipping line in Bicol will lower the cost of doing business in the region, especially for exporters.
"Now we are already doing some research to get the actual volume of export in the Bicol region. This is very viable, this will go a long way," he said. "Minerals like gold, copper, handicrafts, and processed food will be given a break with the entry of international container line," he said.
In a separate interview, Joel Antiporda, Masbate Truckers Association president, said they will reap the benefits of the opening of an international shipping line in Bicol. (PNA)