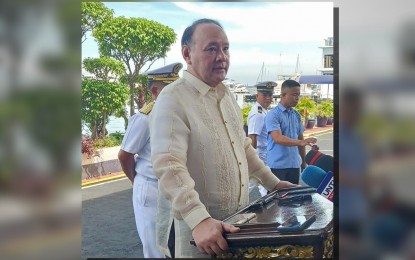 MANILA – Department of National Defense (DND) Secretary Gilberto Teodoro Jr. has said the modernization of the Armed Forces of the Philippines (AFP) must be sustained and should not be done "piecemeal" to have an impact on the country's credible deterrence posture.
Teodoro said he wants weapon systems and platforms to be acquired in the ongoing AFP modernization program to be capable of facing all kinds of security threats.
"Ang kailangan ay ang modernisasyon ng hindi piecemeal, kailangan interoperable at kailangan ito ay magkakaroon ng diperensya sa ating credible deterrent posture, hindi yung pakitang tao lamang kung hindi tunay na modernisasyon (What we need is a modernization that is not piecemeal, that is also interoperable, and it should have a positive effect on our credible defense posture, we need a real modernization and not one that is just for show)," he added on the sidelines of Monday's commissioning of the two Alvarez-class patrol vessels.
The defense chief also said that he has instructed AFP chief Gen. Romeo Brawner Jr. and his staff to start "rehorizoning" and "restrategization" regarding their modernization program.
While acquiring new weapon systems and platforms could be expensive, the DND chief said it would be at least "synergistic" and capable of handling various security challenges.
"Ika nga, lahat na ng klaseng threats (all kinds of threats) to include the peaceful protection of Philippine sovereign rights in the 200 nautical mile exclusive economic zone, private commercial activities authorized by the government, Filipino fisherfolk so that they can fish without any disturbance whatsoever by any fictitious claims of history or whatnot," he added. (PNA)