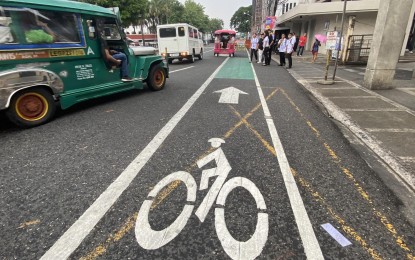 LEGAZPI CITY – The Department of Public Works and Highways (DPWH) on Tuesday reported the completion and improvement of a total of 17.05 kilometers of protected bike lanes along the major roads of this city.
In an interview, DPWH-5 (Bicol) regional spokesperson Lucy Castañeda said the Department of Transportation (DOTr) funded the protected bike lanes with a total budget of PHP35.1 million.
Castañeda said they also installed reflectorized thermoplastic pavement markings, bike lane separators and some signages on the special lanes.
DPWH-5 Regional Director Virgilio Eduarte said the protected lanes give bikers safe road space.
"In light of rising fuel prices, the use of a bicycle is currently a better and healthier alternative means of transportation," he said in a statement.
The bike lane routes are along the F. Aquende Drive, Lakandula Drive, Lapu-Lapu St., Peñaranda Park St., Quezon Avenue, Rizal Avenue, Rizal Street, Tektone area to Sawangan Road and Wharf Road to Legazpi Boulevard.
Castañeda said the use of protected bike lanes was conceptualized during the height of the coronavirus disease 2019 (Covid-19) pandemic when cycling became an alternative transport mode for commuters.
"One of the objectives is to develop a network of safe bike lanes. This is also in compliance with the DPWH Department Order No. 263 series of 2022 re Guidelines and Standard Design Drawings for Bicycle Facilities along National Roads," she said.
Legazpi City Tourism Office chief Cristina Agapita Pacres, in a separate interview, said bike enthusiasts now enjoy rides along the streets here because they are provided with exclusive lanes.
"I see a lot of bikers now utilizing the bike lanes in the city," she said.
Pacres said the bike lanes have an additional impact on the city's tourism industry, noting more bikers from neighboring areas come to Legazpi City.
"Bikers from other places, when they opt to stay overnight, they'll look for a place to stay, buy foods or eat in restaurants, which bring additional income to the business establishments," she said.
Pacres added they are planning to educate the public, particularly the motorists, on the proper use of bike lanes through an information campaign. (PNA)