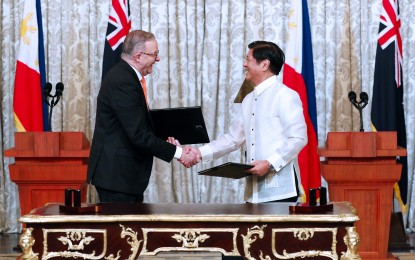 MANILA – The Australian Embassy in Manila on Tuesday announced it will issue "work and holiday" visas to 200 Filipinos aged 18 to 30 years starting 2024 following a reciprocal visa arrangement between Manila and Canberra.
In a statement, the Embassy said the Philippines will be an eligible country for the scheme next year with the exact date yet to be announced.
"Prime Minister (Anthony) Albanese and President (Ferdinand R.) Marcos (Jr.) announced a new reciprocal Work and Holiday visa for Australians and Filipinos for up to 200 young people in each direction a year, supporting stronger economic, cultural and people-to-people links," it said.
"The date and details on how to apply will be announced in due course," it added.
This visa allows people aged 18 to 30 years to have an extended holiday in Australia and work to help fund their trip.
With this visa, the Australian Embassy said you can:
• do short-term work in Australia to help pay for your holiday
• study for up to four months
• travel to and from Australia as many times as you want
One of the requirements is enough funding to support one's self while in Australia.
The Australian Department of Home Affairs said this could be about 5,000 Australian dollars (about PHP180,900) for the initial stay and additional cash enough to purchase a flight ticket to leave Australia at the end of the stay.
The work and holiday visa itself costs about 635 Australian dollars (around PHP22,974) and will give the holder at least 12 months of stay in Australia.
The Philippines and Australia signed the memorandum of understanding (MOU) on the establishment of a "Work and Holiday" visa arrangement during the official visit of Australian Prime Minister Anthony Albanese to Malacañang on Sept. 8.
Under the MOU, both countries will grant eligible participants from both countries "Work and Holiday" visa which will permit them to stay and work in the host country for a period of 12 months.
"The participants mutually decide to establish a 'Work and Holiday' visa arrangement, to allow nationals of both Participants to stay in the territory of the other Participant for the primary purpose of a holiday, during which they may undertake work to supplement the cost of their stay," the MOU stated.
The MOU will be valid for an indefinite period of time unless terminated by written notice through diplomatic channels. (PNA)