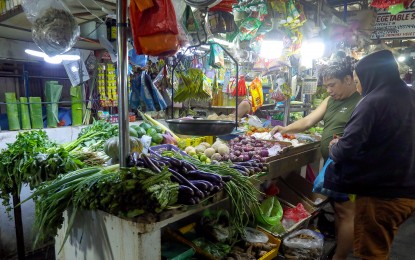 MANILA – A ranking central bank official on Tuesday said the deceleration of core inflation last month provides additional impetus towards the possibility of a within-target inflation rate in the last quarter of this year.
In his presentation during the Philippine Economic Briefing in Dubai, United Arab Emirates on Tuesday, Bangko Sentral ng Pilipinas (BSP) Deputy Governor Francisco Dakila Jr. said that although the rate of price increases last August ended its six-month slide after an uptick from 4.7 percent to 5.3 percent, this is largely due to weather-related disturbances.
"Nevertheless, when we look at the core inflation numbers, we continue to see the moderation to 6.1 percent in August from 6.7 percent last July," he said.
In the first eight months this year, the headline inflation averaged at 6.6 percent, way higher than the government's 2 percent to 4 percent target band.
After hitting a 14-year high of 8.7 percent in January, the inflation rate decelerated until last July.
Core inflation, which excludes volatile food and oil items, averaged at 7.4 percent as of last August, Philippine Statistics Authority data show.
Dakila said other core inflation measures also point to moderating path.
BSP's policy-making Monetary Board, during its rate-setting meeting in August, forecasts inflation to average at 5.6 percent this year, 3.3 percent next year and 3.4 percent in 2025.
"Barring the occurrence of unforeseen shocks, we expect that we will be reverting back to target by the fourth quarter of this year," Dakila said.
He reiterated expectations for below 3 percent inflation rate in the first quarter of 2024, which monetary authorities have repeatedly point to base effects because of the high inflation rates in the first quarter of this year.
"But nevertheless, we continue to see that the risks to inflation outlook have remained tilted towards the upside both for this year and for next year," he added.
Dakila cited results of its August 2023 survey among 26 private sector economists showing that although the mean inflation expectations for this year is unchanged at 5.5 percent, forecast figures for the next two years have declined.
BSP data show that the mean forecast for 2024 and 2025 went down to 3.5 percent and 3.4 percent, respectively, from 3.6 percent for both periods in the previous month's survey.
Dakila said the BSP "remains ready to respond as necessary to any risks that threaten the achievement of the inflation target."
He said that "given the role of supply side factors in influencing the inflation outlook, the BSP has been vocal in its support for the government's timely non-monetary measures which remain critical in addressing these supply side pressures that I have mentioned."
"BSP has been pro-active in using its expanded toolkit to address the challenges to inflation," he added. (PNA)