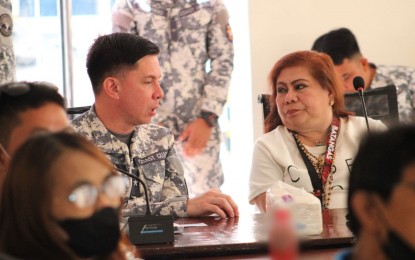 BATANGAS CITY – Parallel surveys conducted by the provincial government of Batangas and the Philippine Coast Guard (PCG) strongly indicate that Verde Island Passage (VIP) and nearby waters in this province are now free of petroleum contaminants from an oil spill off Oriental Mindoro's coast earlier this year.
In an interview on Wednesday, Amor Banelos-Calayan, head of Batangas' Provincial Disaster Risk Reduction and Management Office (PDRRMO), said her office is already finalizing the report on the oil spill's overall impact on the province's waters, including the VIP, which is known worldwide for its rich biodiversity.
"We are in (the) final analysis of the cumulative impact. However, the oil spill is no longer visible. The fishermen were able to return to their main source of livelihood," Calayan said.
In a separate interview, Capt. Victorino Acosta IV, Station Commander of PCG-Batangas, said his personnel have been combing waters previously affected by the spill and have failed to spot visible traces of oil.
"We have conducted water sampling with our PG-ENRO (Provincial Government - Environment and Natural Resources Office) in the barangays of Isla Verde and Tingloy. We are just waiting for the result by Friday," Acosta told the Philippine News Agency (PNA).
It was explained that the water sampling activity, which was jointly conducted by the PDRRMO and the PCG, will ultimately determine with certainty whether the VIP can officially be declared free of oil contamination.
Acosta pointed out that the Oriental Mindoro provincial government has already issued a resolution declaring its area oil-spill free, and its Batangas counterpart is getting ready to follow suit as soon as the latest water samples yield favorable results.
He also recognized the Armed Forces of the Philippines, Philippine National Police, and Bureau of Fire Protection for helping clean up the oil spill.
"It was a team effort of the provincial government, local government units, private sector, and the locals," he said.
Acosta added that Verde Island and the island town of Tingloy are once again open to tourism.
The oil spill that contaminated Batangas' waters was caused by the sinking of the MT Princess Empress off Naujan, Oriental Mindoro on Feb. 28, which was then carrying about 800,000 liters of industrial fuel. (PNA)