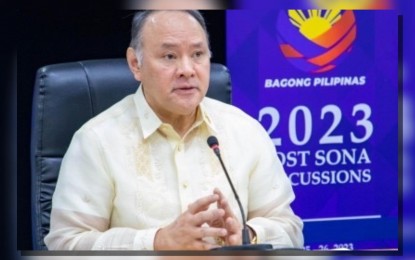 MANILA – The Commission on Appointments (CA) on Wednesday confirmed the ad-interim appointment of lawyer Gilberto Teodoro Jr. as Secretary of the Department of National Defense (DND), along with four other officials and 11 officers of the Armed Forces of the Philippines (AFP).
Teodoro was first appointed as DND Secretary during the term of then-President Gloria Macapagal Arroyo. He was the youngest to hold the post at 43. He ran for President in 2010 but lost to his cousin, the late Benigno "Noynoy" Aquino III. He also tried to win a Senate seat in Eleksyon 2022 but was unsuccessful.
Also confirmed by the CA were Ms. Catherine Cruz Sy as Foreign Service Officer Class IV of the Department of Foreign Affairs (DFA); Atty. Erlinda Pinera-Uy a member of the Judicial Bar Council (JBC) representing the Integrated Bar of the Philippines (IBP); Kira Christianne Danganan Azucena as Ambassador to Niue, in addition to being Ambassador Extraordinary and Plenipotentiary to New Zealand; and Charlie Pacana Manangan, Chief of Mission Class 1, Extraordinary and Plenipotentiary.
Confirmed to the rank of Brigadier General were Lloyd S. Cabacungan, Fernando Ventura, Jose Jesus Lontok, Ramon Flores, Dennis Pacis, Nasser Lidasan, Ivan DR. Papera, and Benedict Balaba.
Confirmed to Major General was Arvin Lagamon, while Steve Crespillo was confirmed as Lieutenant General. Also confirmed was Peter Jempsun de Guzman as Commodore.
Only Senator Risa Hontiveros questioned Teodoro during the hearing.
Teodoro topped the Bar exams in 1989 after graduating at the top of his class at the University of the Philippines College of Law.
He earned a degree in commerce with a major in financial institutions from De La Salle University and a master's degree in law from Harvard University.
Meanwhile, Senate President Juan Miguel 'Migz' Zubiri applauded the confirmation of Teodoro, vouching for the Defense chief's integrity and capability.
"His impressive academic and military records, diplomacy and integrity, as well as unquestionable dedication in protecting the interests of the Filipino people, make him more than qualified once again to take over the position of Secretary of National Defense," the Senate chief added.
For his part, Teodoro highlighted his mandate as the head of the DND to further modernize the organization and leverage the country's security partnerships in promoting the Philippines' national interests.
"The intensity of the need to focus on protecting our sovereignty and sovereign rights is paramount in the global race for resources and influence. (There is a) need for cognizance of sovereignty and sovereign rights. We need to principally use politics and diplomacy, backed up by a strong backbone of a strategic defense posture," he said.
Asked about his policy direction as Defense chief, Teodoro envisioned modernizing not only the Armed Forces of the Philippines but also the DND Proper and its civilian bureaus to better manage resources and services.
Teodoro also cited the need to set up a trust fund as part of measures to reform the pension system. (With reports from Priam F. Nepomuceno/PNA)