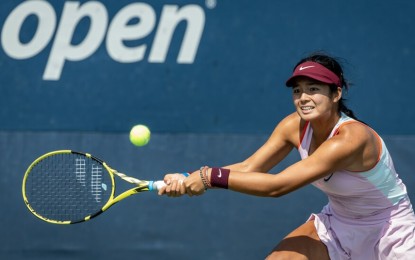 MANILA – Only three tennis players will represent the Philippines at the 19th Asian Games scheduled from Sept. 23 to Oct. 8 in Hangzhou, China.
United States-based Ruben Gonzales and homegrown Francis Casey Alcantara and Alex Eala comprised the team, which includes coach Cris Cuarto.
Alcantara is entered in the men's singles and doubles (with Gonzales) while Gonzales will team up with Eala in the mixed doubles. Eala is also competing in the women's singles.
The 18-year-old Eala is excited on her Asian Games debut. She bagged three bronze medals --singles, mixed doubles (with Fil-American Treat Huey) and women's team (with Shaira Hope Rivera, Marian Capadocia and Jenaila Rose Prulla) on her first Southeast Asian Games appearance last May in Cambodia.
"I am confident that I will bring on the best level of tennis I can bring. My main priority is to enjoy the opportunity and fight every point. I don't like to create expectations in terms of results, especially because this is my first time joining the Asian Games," the 5-foot-9 player from Quezon City told the Philippine News Agency on Wednesday.
Eala, a graduate of the Rafael Nadal Academy in Mallorca (Spain), is currently at No. 192 in the Women's Tennis Association (WTA) singles rankings, a career-high after reaching the final of the USD25,000 event in Aldershot, Great Britain. She lost to Australian Destanee Aiava, 6-3, 4-6, 1-6.
In Roehampton, which is another USD25,000 event, Eala defeated Australian Arina Rodionova, 6-2, 6-3, to clinch her fourth pro title.
Last week, Eala made it to the main draw of the USD100,000 event in Tokyo, Japan as a qualifier. However, she lost to Australian Kimberly Birrell, 6-4, 6-7 (5), 2-6 in the second round.
She will join the Galaxy Holding Group Guangzhou Open in China from Sept. 18 to 23 before going to Hangzhou.
Meanwhile, Gonzales and Alcantara are also busy gearing up for Hangzhou.
Gonzales, ranked No. 178 in the Association of Tennis Professionals (ATP), won the doubles gold medal in Cambodia with Huey. They beat Alcantara and Jeson Patrombon in the final.
"I will be playing in Europe for two weeks before I head to Manila," said Gonzales, who turned 38 on Sept. 11.
He and partner Filip Bergevi of Sweden reached the round-of-16 at the Challenger Tour in Genoa, Italy last week.
Alcantara, on the other, is enjoying a career-high No. 238 ranking, boosted by a final stint at the Challenger Tour in China.
Teaming up with Chinese Fajing Sun, the pair marched into the final round in Zhangjiagang two weeks ago, but they lost to Ray Ho of Chinese Taipei and Matthew Christopher Romios of Australia, 3-6, 4-6.
"I'm happy with my career-high ranking now but my goal this year is to reach the Top 200," said the 31-year-old Alcantara. "I will do my best in Hangzhou."
The tennis competition in the Asian Games was scheduled from Sept. 24 to 30 at the Hangzhou Olympic Sports Expo Center courts. (PNA)