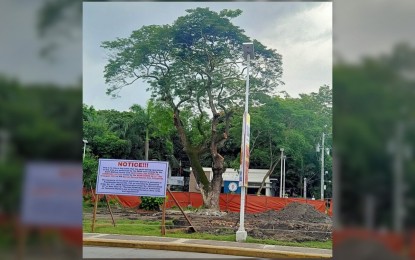 MANILA – Leyte Rep. Richard Gomez on Wednesday urged his colleagues to pass his bill seeking an upgrade on the age-old earth balling system as the country moves forward towards economic development amid the growing risks of climate change.
"The earth balling method guarantees the survival and continued growth of the transplanted tree, thereby maintaining the environmental balance and ecological integrity of the area. This process is essential as it allows for the coexistence of infrastructure development and environmental sustainability," Gomez said in his privilege speech.
Under House Bill 9124, an annual appropriation of funds is proposed to the Department of Public Works and Highways (DPWH) for the procurement, maintenance, and use of at least one set of machinery known as "earth balling equipment" per region to be used in road improvement and other developmental projects.
An earth balling machine is a mechanized apparatus specifically designed to relocate trees that obstruct road-widening efforts.
On the other hand, the Department of Environment and Natural Resources (DENR) defines earth balling as "the process of moving trees by digging out the earth and the roots in a circular shape, leaving most of the root system undisturbed and intact."
Gomez said a DENR memorandum issued in November 2009 stated that the cutting of trees that obstruct road-widening projects is only allowed when earth balling is already impractical.
The former mayor of Ormoc City, however, noted that the DPWH is still undertaking "manual" or "traditional" earth balling because "there was no budget for (the purchase of) earth balling machines."
"This is a laborious and expensive process. I believe that it is because of this complication that tree-cutting permits are methodically granted to DPWH for road-widening projects," Gomez said as he urged his colleagues to bring down the number of trees cut "to the barest minimum." (PNA)