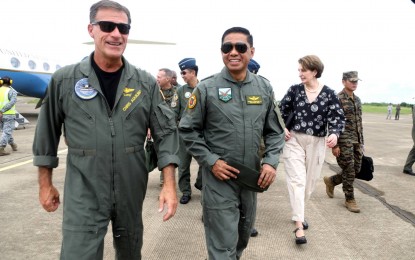 MANILA – A ranking American military official on Wednesday said the development of the Enhanced Defense Cooperation Agreement (EDCA) locations would greatly enhance the interoperability of Filipino and American troops.
"We have identified several projects that benefit the AFP (Armed Forces of the Philippines) and allow the United States and the Philippines to operate together effectively, exercise together and increase our interoperability," United States Indo-Pacific Command chief Admiral John Aquilino said in a press briefing at the Basa Air Base in Pampanga, which houses an EDCA site in the country.
Aside from the Basa Air Base, Aquilino, together with AFP chief Gen. Romeo Brawner Jr. and US Ambassador to the Philippines Marykay Carlson also visited EDCA sites in Lal-lo Airport and Naval Base Camilo Osias, both in Cagayan province.
He also emphasized that all EDCA sites are sovereign Philippine territory.
He added that EDCA sites are very useful for humanitarian assistance and disaster relief (HADR) missions as proven by the use of the Lal-lo Airfield EDCA site for relief missions during the height of Typhoon Egay last August.
"We were at Lal-lo today (Wednesday), Lal-lo was a place where the United States and the Philippines came together to support the most recent humanitarian assistance to the Philippine people which is the best example of why these EDCA sites are important," he added.
Aquilino also lauded the progress of EDCA projects during their visit.
"The work that [General Brawner's] team has done in coordination with our team to further advance capabilities here in the Philippines is truly impressive. We're very pleased. I was here a year ago, and the progress of the runway and all the sites is moving at a great pace, thanks to our strong partnership," Aquilino said.
Meanwhile, Brawner also expressed optimism that more of these projects will become operational by next year to support joint exercises and operations.
"We are very pleased with the progress of these projects, and we are highly optimistic that next year, more of these projects will be operational, allowing us to engage in joint exercises and operations immediately," the AFP chief noted.
The two officials also added that all future projects will undergo vetting by the Philippine government for consideration in future operations and mutual benefit.
The five initial EDCA sites are the Cesar Basa Air Base in Floridablanca, Pampanga; Fort Magsaysay Military Reservation in Nueva Ecija; Lumbia Airport in Cagayan De Oro; Antonio Bautista Air Base in Puerto Princesa, Palawan; and Benito Ebuen Air Base in Cebu.
Meanwhile, the additional four sites are Naval Base Camilo Osias in Sta. Ana, Cagayan; Lal-lo Airport in Lal-lo Cagayan; Camp Melchor Dela Cruz in Gamu, Isabela; and Balabac Island in Palawan. (PNA)